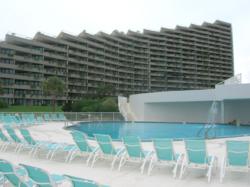 ...we come to Edgewater every year - and would highly recommend it to anyone searching for the perfect "snowbird" haven in the winter. The cost savings are tremendous.
Destin, FL (PRWEB) September 28, 2011
Destin, Florida is located on the northwest corner of the sunny Florida panhandle. With a one hundred mile stretch of pure white sand beach and the warm waters of the Gulf Coast, it's not surprising that it's one of the most favored areas for winter vacationers. 'Snowbirds', those people who get away from the snow and ice of the northern states, have been flocking to Destin for many years. Some people in the area, however, are concerned that the economy might slow things down this year.
While the economy seems to be past the worst of the crisis, the job market has remained sluggish, so it is only natural that people may think twice about vacationing this year. However, it appears that this may not slow the snowbirds down. Instead, they are turning to alternatives that save them money while still enabling them to enjoy the sun, sand and surf of the Florida panhandle.
"Instead of renting hotel rooms for their stays, many people are turning to condo vacation rentals. This provides several opportunities to save money while still providing comfort and extra amenities" says Mike Carraway, a frequent guest at Edgewater Beach Condominium.
Condo vacation rentals are obtained by the week or by the month, rather than the daily rate you get in a hotel. This is the first way to save - by renting a condo. Another way that saves people money is that they won't pay extra per person for a condo rental like most hotels require. If the whole family is going or any kind of group, this can add up to a huge savings.
Condo vacation rentals also come with kitchens so snowbirds can choose to cook and eat meals in their rental rather than dining out at a restaurant for every meal. This is another way that a condo rental will help vacationers save a lot of money over the course of their vacations. Entertainment is another savings spot as with this type of vacation rental, snowbirds can take advantage of any amenities offered or special things included. For example, Edgewater Beach Condominiums, a very popular spot with snowbirds, has much more to offer vacationers than simply a place to stay.
Snowbirds who choose Edgewater Beach Condominiums (http://www.edgewaterbeach.com) also find that they need spend very little, if anything, on entertainment. Practically right outside the door of Edgewater is the sparkling beach where vacationers can relax, swim or play on the sand. The resort offers chartered trips over to the casinos in Biloxi, MS, as well as many special events held on the grounds. Resorts like Edgewater Beach Condominiums offer Destin vacation rentals that include far more than simply accommodations and that's saving the 'snowbirds' a lot of money and making the state of the economy a non-issue.
About Edgewater Beach Condominiums:
Edgewater Beach Condominiums has been operating the resort in Destin, Florida for a quarter of a century. They offer their guests exemplary service, luxurious amenities and exciting activities which has helped them become the premier spot for Destin vacation rentals.
Media contact:
Mike Carraway
(205) 369-8689
its4real4u(at)aol(dot)com
###