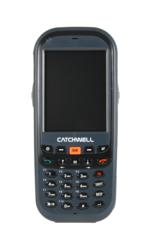 The Catchwell CW30 is a cost-effective alternative to many other rugged mobile computers.
Harmony, PA (PRWEB) September 28, 2011
SDG Systems announced today the availability of the Catchwell CW30 rugged, mobile, handheld computer. Running Windows Mobile 6.5 or Windows CE 5.0, the CW30 provides industry-standard operating system environments for running a wide range of applications. The CW30 is a highly cost-effective solution for indoor and many outdoor environments.
Built for light industrial usage, the CW30 is ideal for use in retail, parcel delivery, field services, warehouse and task management applications. It has been drop-tested 12 times from 1.5 meters onto concrete and has an IP54 dust and waterproof rating. The CW30 comes equipped with a 806 MHz processor, 256MB RAM and 256MB Flash memory, Bluetooth technology and 802.11b/g WiFi. Options include 1D laser and 1D/2D imager scanning, GSM/EDGE phone and data communications, GPS, and camera. A wide range of accessories are also available, including a pistol-grip trigger, and single and multi-bay cradles.
Through October 31, 2011, SDG Systems is offering introductory pricing on CW30 units in two configurations:
CW30-GC1: CW30 with Windows Mobile 6.5, 802.11b/g, Bluetooth, 1D laser scanner and camera priced at $699 (regular $899).
CW30-EGC2: CW30 with Windows Mobile 6.5, 802.11b/g, Bluetooth, GSM / EDGE phone, 2D CMOS scanner, and camera priced at $899 (regular $1099).
The Catchwell CW30 is the first device from Catchwell approved by the FCC for use in the United States. The CW30 is in stock and available to ship.
SDG Systems also announced the Catchwell CW20. The CW20 is a small form factor IP65 rugged mobile computer and will be available in the fourth quarter, 2011. SDG Systems is a distributor of Catchwell products and reseller pricing is available.
About SDG Systems
SDG Systems, LLC is a world-wide value added reseller of rugged computing products, providing responsive technical support, complete solutions, software customizations and porting services. SDG Systems is a world-wide leader of implementing Google Android (AOSP) solutions on rugged devices, and has been developing and supporting Linux system software since 2001.
About Catchwell
Founded in 1999, Catchwell is a rapidly-growing mobile solutions company committed to being a world-class solution provider who increases business productivity and efficiency. Catchwell is the winner of the annual Korean Post bidding for 2002-2005, 2008, 2010 and 2011.
# # #