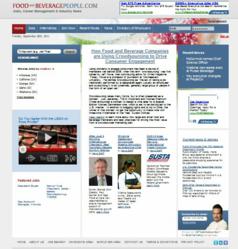 Unlike the general jobsites, our goal is to serve an audience that is passionate about the food and beverage industry...
Princeton, NJ (PRWEB) September 26, 2011
FoodAndBeveragePeople.com is a new website dedicated to the people who drive innovation and success from farms across the United States to tables around the world. The website's mission is to connect with the talented individuals and companies who are dedicated to the food and beverage industry, promote best practices and help food and beverage industry professionals connect to each other.
At launch there are four core content areas within FoodAndBeveragePeople.com; news, recent moves, internships and jobs. Industry professionals at every stage of their career will find news, newsmakers and industry trends, that will help inform their business and career decisions. Individuals needing to keep up with the vast food and beverage industry, but with little time to spare, can sign up on the site for free e-mail newsletter service or follow us on Twitter @foodandbevbiz.
According to Gigi Cohen, founder and publisher of FoodAndBeveragePeople.com, "general jobsites best serve individuals who are not particular about the industry they work in or are job hunting to 'just get a job'. Unlike the general jobsites, our goal is to serve an audience that is passionate about the food and beverage industry, delivering insightful content that is instrumental to building a career within a single organization or across a number of companies."
Cohen's insights come from being a 25 year veteran and active voice in jobsite development, recruitment advertising and employee sourcing. In 1985 she joined recruitment advertising agency leader Nationwide Advertising (now NAS Recruitment Communications). Her work at NAS, with companies like Marriott Host and Roy Rogers Restaurants, drove Cohen's initial interest in the food and beverage industry. In 1988 Cohen was selected to lead the recruitment advertising department of The Star-Ledger, New Jersey's largest daily newspaper. In 1996, the newspaper's parent company, Advance Publications Inc., selected Cohen to conceptualize and lead the recruitment advertising and overarching classifieds strategy for the company's newly formed web division, Advance Internet.
Cohen left Advance Internet in 2010 with the goal of addressing the gaps between employee sourcing and talent management. After extensive research and industry discussions, Cohen focused on the void created, in part, by the automation of the job applicant process and the proliferation of regurgitated stories around writing resumes and online networking. In any industry, engagement is the differentiating factor to a rewarding career. Our website, FoodAndBeveragePeople.com is committed to driving engagement by putting people back into the story of food and beverage businesses.