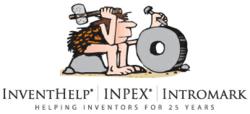 Pittsburgh, PA (PRWEB) September 28, 2011
InventHelp®, America's largest inventor service company, announces that one of its clients, an inventor from Canada, has designed a modified cane that could help a user stand up from a kneeling and sitting position. This invention is patented.
The "Ultimate Cane" features a built-in, lower handle that would provide leverage when a user is rising. This lower handle could also enable the cane to be used as a crutch for better mobility. The device could provide adequate leverage and an appropriate center of gravity which would provide a user peace of mind and independence.
The Ultimate Cane could be producible from plastic, wood, aluminum or a combination of all three materials. The device would feature a slightly curved top handle that would include a groove on the front side to accommodate the forefinger for a sturdy grip. The upper section of the vertical shaft would include an arc or "sweep" that would shift the center of gravity forward. A lower handle would be located below the arc, on the back side. The handle would provide leverage when standing up from a kneeling or sitting position. Variations of the Ultimate Cane could include different materials and styles, a height-adjustable aluminum version, as well as the addition of an attached wrist strap.
InventHelp® is attempting to submit the invention to companies for review. If substantial interest is expressed, the company will attempt to negotiate for a sale or royalties for the inventor. For more information, telephone Dept. 08-TOR-8353 at (800) 851-6030.
# # #