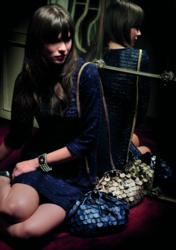 ...who wants to pay a high price for something that will worth less next year?
London, UK (PRWEB) September 28, 2011
Fiorelli, the internationally acclaimed fashion accessories brand from London, launch their latest costume jewellery collection in two weeks on an international fashion destination for women who cannot or do not want to have their ears pierced, clip on earring specialists, Make Me Beautiful.
"Talk in the news of economic woes has sent gold and silver prices to all time highs," spoke Make Me Beautiful founder, Misae Richwoods. "As a result most people are shying away from buying solid gold jewellery on the expectation that prices for the same item will be much better next year after the European economy is stabilized. That's meant a search for great quality jewellery that doesn't have the valuation risk attached; after all, who wants to pay a high price for something that will worth less next year? Fiorelli Jewellery offers a great answer to this dilemma with stylishly designed pieces that look worth far more than they cost, making them great gifts for Xmas or for one's self."
Fiorelli Jewellery Costume Collection Season 7 features Fiorelli's classically inspired design that tips a hat at fine Italian jewellery. Mixing that up with a modern twist and a high quality of manufacturing and it's little wonder that Fiorelli Jewellery has been going from strength to strength since its launch in 2007. Make Me Beautiful have been strong supporters of the brand, stocking both their earring ranges together with the matching necklaces, bracelets and rings.
Fiorelli Jewellery Season 7 officially launches in the second week of October. The full range will be available to see and purchase on http://www.make-me-beautiful.co.uk shortly thereafter.
About Make Me Beautiful
Make Me Beautiful was the first site that made clip on earrings sexy and stylish again. Whilst other sites focus on peddling Pat Butcher's left overs, Make Me Beautiful curates a fashion forward collection of the best of Britain's talent with over 1,000 lines from leading designers all in clip on, screw on, spring loaded or other non-pierced designs. Make Me Beautiful serves customers in over 30 nations and three languages via it's online web store at http://www.make-me-beautiful.co.uk together with partner sites from it's headquarters in Wimbledon, London and customer service centre in Florida, USA. Make Me Beautiful is a trading name of Rising Dragon Enterprises Ltd.
Media Contact:
Misae Richwoods
0208 123 9800
press(at)make-me-beautiful(dot)co(dot)uk
http://www.make-me-beautiful.co.uk
###