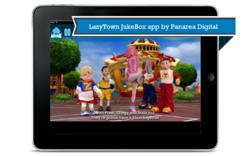 This is just the first of several apps from our partnership with LazyTown. The combination of the LazyTown characters, music, and the healthy living theme, and our creative game development teams will bring even more fun and engaging games and activities
Miami, Florida (PRWEB) September 29, 2011
Panarea Digital, a premier interactive content developer and production house, and LazyTown, a popular children's entertainment brand, launched its first joint app, "LazyTown Jukebox", for iPhone, iPod Touch, and iPad, which is now available on the App Store. LazyTown, a hit television show, promotes a healthy lifestyle for kids, and this app brings this message to life through its music videos based on original songs from the show.
With "LazyTown Jukebox" children enjoy the music videos, learn the lyrics, and sing along with the most popular songs from the show. The colorful and whimsical music videos feature the characters they love, and the bouncy-ball makes it fun and easy for kids to follow along to learn the words to all the songs. Kids can also record themselves singing the songs and share their recordings with others.
"At Panarea Digital, we are excited about launching our first app with LazyTown. Our interactive play brings the songs and characters from LazyTown to children in a whole new way," said Guido Kovalskys, CEO of Panarea Digital. "This is just the first of several apps from our partnership with LazyTown. The combination of the LazyTown characters, music, and the healthy living theme, and our creative game development teams will bring even more fun and engaging games and activities to kids. More great apps will be released soon."
Magnus Scheving, CEO and star of the show says, "This is a fantastic way for children to learn and play whilst on-the-go or travelling. LazyTown is all about motivating children to be active and healthy in a fun way and LazyTown Jukebox does just that, encouraging them to sing and dance along to LazyTown songs."
The "LazyTown Jukebox" app is available for free from the App Store on iPhone, iPod touch and iPad, or at http://itunes.com/apps/LazyTownJukebox
For more information about this app and about the partnership between Panarea Digital and LazyTown, visit http://www.mylazytown.com
About Panarea Digital
Panarea Digital is a premier content developer and interactive production house founded in 2003. We create engaging interactive products for children and adults for the latest consumer technology platforms to enhance the way people learn and work. Our portfolio includes e-books, iPhone & iPad applications, web applications, mobile applications, games and a wide range of back-end systems. We partner with top-tier consumer-focused and business-to-business companies including Barnes & Noble, LeapFrog Toys, Nickelodeon, salesforce.com, American Express and many more. We are a privately owned firm with  offices in Argentina, Brazil and the United States. For more information, please see http://www.panareadigital.com
About LazyTown
LazyTown is a children's entertainment brand dedicated to promoting health and wellbeing in a fun way. This is its unique selling point, and by remaining committed to this, LazyTown Entertainment has been able to develop the brand with integrity and authenticity. Created and starring Icelander Magnus Scheving the program has been seen by more than 500 million children and aired in over 100 countries throughout the world. LazyTown is currently collaborating with various US government agencies on developing far-reaching and impactful health initiatives for American families, and has aligned with likeminded organizations such as US Soccer Foundation to promote physical activity with fun and engaging national grassroots campaigns.
###