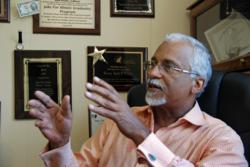 [Health care reform] will change how we've done business…Let's make it simple for people, and they're more likely to buy into it. We have to simplify the language of insurance.
Chicago, Illinois (PRWEB) September 29, 2011
09.29.2011– September 29, 2011 (CHICAGO) –
Today, Illinois Health Matters launched the latest in their ongoing multimedia series, Neighborhood Stories. This installment features the state's health insurance marketplace (also known as a health insurance exchange) paired with a policymaker perspectives on how the Affordable Care Act will affect those living in Chicago's underserved communities. Illinois Health Matters is a website and social media campaign that provides expert resources and information around national health care reform throughout Illinois.
The article, "Making Health the Best Policy," explains the steps that Illinois policymakers have taken since 2010 to establish health care reform in the Prairie State.
Illinois Health Matters spoke to key policymakers in the Governor's Office, the Department of Health & Family Services (HFS) and the Illinois General Assembly about their vision of how reform will impact west and south siders' ability to gain insurance. Under the new health care law, HFS Director Julie Hamos says: "We believe there will be one million more people who will have access to private health insurance through the exchange, or public insurance through Medicaid...These are people who have not had a doctor, or a health checkup, in many years." Michael Gelder, Governor Quinn's senior health policy advisor and Chair of the Illinois Health Care Reform Implementation Council says, "People on the west and south sides should see this as an opportunity to get health insurance. They should also see it as an opportunity to make their elected representatives, both federal and state, hear that they're enthusiastic about [reform], and that they expect us to deliver on that."
In the "Policy to the People" video, Illinois Senator Donne Trotter (17th District) states that to ensure health care reform translates into effective local policies, a "three-prong" approach -- namely, engaging policymakers, medical practitioners and the citizens themselves -- is required, along with widespread and accurate education. Trotter, a longtime advocate for affordable health care for low income families asserts that health care reform will "change how we've done business," further adding. "Let's make it simple for people, and they're more likely to buy into it. We have to simplify the language of insurance."
"Policy to the People" is the latest video testimonial in the Neighborhood Stories series. Previous videos examined the implications of health care reform for families and small businesses. All videos and articles are featured in the "Neighborhood Stories" section of the Illinois Health Matters website, along with articles that share how community organizations, including Health & Disability Advocates, local Chambers of Commerce and others are educating and informing underserved groups about their health care coverage options under the new law. The multimedia series is part of the Local Reporting Initiative, supported in part by The Chicago Community Trust.
About Illinois Health Matters
Illinois Health Matters is a one-stop resource for information on national health care reform in Illinois, and provides clear, expert information around the Patient Protection and Affordable Care Act, as well as commentaries, resources and a blog for individuals, small businesses, community organizations, media and policymakers. Funding for Illinois Health Matters is generously provided by lead donor, The Chicago Community Trust, and managed by Health & Disability Advocates in partnership with a collaborative of Illinois health policy and community-based organizations: AARP of Illinois, AgeOptions, AIDS Foundation of Chicago, Campaign for Better Health Care, Health & Medicine Policy Research Group, Illinois Maternal & Child Health Coalition, Illinois PIRG Education Fund, and the Sargent Shriver National Center on Poverty Law.
About Health & Disability Advocates
Health & Disability Advocates (HDA) is a national nonprofit that employs public-private partnerships to improve access to jobs, education and healthcare in Illinois and throughout the U.S. Our family of initiatives include: Chicago Medical-Legal Partnership for Children, National Consortium of Health Systems Development, Illinois Connections Military Family Project, SSI Homeless Outreach Project, Make Medicare Work Coalition, ThinkBeyondtheLabel.com and IllinoisHealthMatters.org.
###