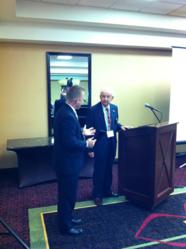 With constantly adapting criminal and governmental threats, it's not a matter of "if" but "when" companies will by cyber-attacked.
St. Louis, Missouri (PRWEB) September 27, 2011
Espionage Research Institute ("ERI") Conference – This year's keynote speaker was Jarrett Kolthoff, a former U.S. Counterintelligence Agent, now CEO of cyber counterespionage firm SpearTip. Kolthoff provided valuable insights into recent and emerging domestic and foreign cyber espionage threats. Kolthoff was recognized with a plaque presented by ERI President, former CIA officer, Glenn Whidden.
Whidden created ERI in an effort to bring together Technical Surveillance Countermeasures ("TSCM") specialists, security practitioners, businessmen and corporate security executives to share information about hostile global espionage targeting business and industry.
SpearTip's Kolthoff described a number of "incidents" he has dealt with for his Fortune 100 and other national and international clients to emphasize the increasing prevalence of internet-based surveillance techniques, cyber espionage, malware, APT (Advanced Persistent Threats) that requires his team to learn and adapt constantly to the ever-changing playing field.
Additionally, Kolthoff sees more and more corporate espionage by departing employees electronically transferring large amounts of competitively sensitive company data. The ease with which such data can be copied and transported requires far higher levels of vigilance by company executives. According to Kolthoff, it is not a matter of "if" data theft will occur, but what the company is prepared to do in mitigation of such losses "when" a company discovers that it has already been breached.
Kolthoff notes that threats exist for enterprises of all types and sizes, from governmental to non-profits to low tech service providers, in addition to obvious targets such as technology driven multinationals. No matter the organization, corporate espionage and cyber warfare are not simply on the doorstep – they are already a dramatic reality.
Each year, U.S. businesses lose billions of dollars to Corporate / Economic Espionage to competitors or state-sponsored organizations. Fundamental to countering cyber espionage activity is the human ingenuity factor that allows for spontaneity and adaptability in response to the most advanced malware. Kolthoff argued that effective prevention and response to these threats requires a highly skilled team, versed in counterespionage techniques as well as technological knowledge and resources. Kolthoff echos the analysis completed by the Office of Inspector General, analysis of the FBI's cyber espionage capabilities, that the combination of both technical aptitude and counterintelligence capabilities are essential skill sets when responding to these cyber intrusions. SpearTip's Advisory Services utilize this unique combination of digital forensics and counterintelligence capabilities when responding to these acute issues affecting our clients.
This year's ERI event, chaired by J.D. LeaSure, President/CEO of ComSec LLC, was another tremendous success in bringing together this international consortium of "spy hunters". LeaSure will also Chair next year's event at ERI's Annual Membership Conference.
About SpearTip
SpearTip is an advisory firm offering counterespionage capabilities built on un-conflicted advice to corporate counsels and chief executives. Our team focuses on cyber investigations and counterintelligence activity that assists our clients to identify, assess, neutralize, and exploit the espionage threats levied against their corporations.
For more information visit us at: http://www.speartip.net or call 1.877.551.0438.
###