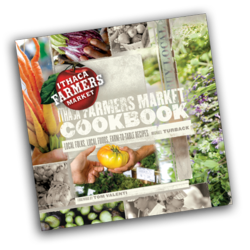 With delicious recipes and charming stories, the Ithaca Farmers Market Cookbook demonstrates the importance of fresh, seasonal and sustainable ingredients.(Alice Waters)
Ithaca, New York (PRWEB) September 27, 2011
Nationally-known chef and local food activist Alice Waters has praised the newly-published cookbook developed by the Ithaca Farmers Market in upstate New York. Founded in 1973, the Ithaca Farmers Market has become not only a local institution, but a national model for community-supported agriculture, consistently ranked among the most progressive farmers markets in the country. Under the leadership of author Michael Turback, the cookbook project has been an unconventional endeavor, enlisting a local production team, local chefs, even a local printer to publish the books. The 200-page cookbook provides a showcase for the market's produce and prepared food offerings with 65 vendor profiles, 100 market-inspired recipes, and 140 photographs. Most significantly, the book was written, recipe-tested, photographed, edited, and printed in keeping with locavore doctrine – all within a 30-mile radius of Ithaca. The Ithaca Farmers Market Cookbook lists for $24.95 with proceeds benefiting the continuing mission of the market.
According to Ms. Waters, "Buying from farmers markets not only promotes edible education for children and adults alike, but also stabilizes a local economy and introduces people to a variety of culinary cultures. With delicious recipes and charming stories, the Ithaca Farmers Market Cookbook demonstrates the importance of fresh, seasonal and sustainable ingredients."
"Ithaca Farmers Market Cookbook" is available for sale online at Amazon.com and other channels.
About the Author
Michael Turback trained as a restaurateur at the Cornell University School of Hotel Administration. He has been credited with pioneering concepts that are seen throughout the restaurant industry today. Turback has published other culinary books that have taken on topics such as: as the ice cream sundae, the banana split, hot chocolate, coffee drinks, culinary cocktails, and Finger Lakes wine country.
###