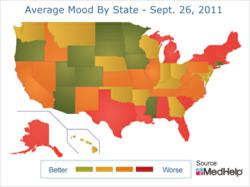 San Francisco, CA (PRWEB) September 27, 2011
MedHelp, the world's largest health social network and leading provider of consumer health applications, today announced that the average mood across the United States is the worst it has been in the last year. Using data points from MedHelp's online and mobile health applications, MedHelp recently saw a significant drop in the average mood across the country.
"With a million health application users utilizing our robust offering of more than 50 online and mobile tools and trackers, MedHelp is able to provide an amazing wealth of health data and, from that, discern meaningful trends, including a significant shift in the country's overall mood," said John de Souza, president and CEO of MedHelp. "This trove of data allows us to capture health trends that occur on both a local and national level."
In the month of September, MedHelp saw other significant trends in the overall mood across the country:

The states with the worst moods include Maine, Michigan, Louisiana, South Carolina and New York
The states with the best moods include Mississippi, Wyoming, Minnesota, Utah and North Dakota
The regions that reported their moods as "worse" are the Northeast and South
MedHelp's data show that, of the states that reported their moods as "worse," four have the highest unemployment rates in the country
According to health experts, poor mental health is a serious illness that can affect anyone and can have major health consequences. Unmanaged stress can lead to high blood pressure, irregular heart rhythms and a weakened immune system, while depression can increase the risk of heart attack and the development of heart disease, fibromyalgia, alcoholism, insomnia, anorexia and even suicide.
MedHelp's homepage features an interactive map of the U.S. that displays health data aggregated from its users, including average hours slept per week, average minutes exercised per week and average mood.
About MedHelp
MedHelp is leading the consumer health revolution by empowering people to take control of their health. As the world's largest health social network, 12 million unique users turn to MedHelp each month to achieve better health. With more than 300 condition-specific communities, 150 ask-the-expert forums, partnerships with 7 of the 10 top U.S. hospitals and a robust suite of 50 online health tools, award-winning mobile apps and personal health records, MedHelp is the savvy consumer's health destination of choice. For more information, visit http://www.medhelp.org.
Media contacts:
MedHelp
Marta Debski
marta(dot)debski(at)medhelp(dot)org
415-882-4600
Katherine Solem
katherine(dot)solem(at)medhelp(dot)org
415-882-4600
###