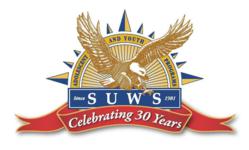 Young adults need to find their own footing and believe in something bigger than themselves in order to thrive and contribute in today's society.
Shoshone, ID (PRWEB) September 27, 2011
SUWS, the nation's longest continually operating therapeutic wilderness program for struggling youth, is going "back to the future" with a new program that harkens back to its founding days. From October 12 to November 22, 2011, SUWS will host the premiere session of SUWS JOURNEYS, a therapeutic wilderness experience for young adult males ages 18 to 26.
"The very first SUWS program back in 1981 was developed for college-age students," said SUWS Executive Director Kathy Rex. "As we celebrate our 30th year, we're excited to 'get back to our roots' by adding the JOURNEYS program for young adults."
SUWS JOURNEYS is a 42-day program that has been specifically designed to meet the unique needs of young adult men who are struggling emotionally, psychologically, socially, academically, and/or spiritually, Rex said. These individuals are inherently good, but are struggling with issues such as low self-esteem, poor interpersonal relationship skills, anger management, impulsiveness, lack of motivation, alcohol or drug use, gaming/internet addiction, or academic failure.
The goal is that once these individuals complete their journey, they will have developed character, communication skills, values, self-confidence and goals for moving forward in their lives, Rex explained.
SUWS JOURNEYS will set out to accomplish this through an innovative combination of Cognitive Behavioral Therapy (CBT) and a family/group systems approach. Individuals will receive intensive weekly individual therapy, multiple weekly group therapy sessions, intensive experiential learning, equine-assisted psychotherapy, and ropes course opportunities. Family involvement will take place at key intervals, and each individual will have their learning style and aptitude assessed along with extensive clinical testing as needed.
"During their 42 days with us, SUWS JOURNEYS participants will function within a small group environment," Rex said. "Each JOURNEYS group will have no more than 8 participants, along with two field instructors, a therapist, and an activity leader."
In addition to providing significant personal attention, this contained group model also harnesses the power of group process to enhance the individual progress of each student, Rex said. Group activities throughout the 42 days are focused on training, simulations, team building and service projects in the local community.
"Young adults need to find their own footing and believe in something bigger than themselves in order to thrive and contribute in today's society."
A range of adventure-based activities such as fishing, mountain biking, rafting and snow shoeing also help teach healthy and fun lifestyle choices to young adults who may have previously filled their leisure time with far less productive pursuits.
SUWS is currently accepting applications for the Oct. 12 – Nov. 22 session of SUWS JOURNEYS. For more information, call (888) 879-7897 or visit the SUWS website at http://www.suws.com.
SUWS is a program of Aspen Education Group, the nation's leading provider of therapeutic education programs for struggling or underachieving young people. Aspen's services range from short-term intervention programs to residential treatment, and include a variety of therapeutic settings such as boarding schools, outdoor behavioral health programs and special needs summer camps, allowing professionals and families the opportunity to choose the best setting to meet a student's unique academic and emotional needs. Aspen Education Group is a member of CRC Health Group, the most comprehensive network of specialized behavioral care services in the nation. Since 1995, CRC Health has been achieving successful outcomes for individuals and families.
###