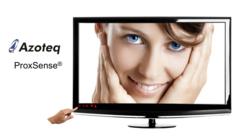 Azoteq's ProxSense® provides the only capacitive sensing solution that is sensitive enough for reliable proximity detection over ranges in excess of 150mm
Austin, TX (PRWEB) September 27, 2011
Azoteq, the world leader in proximity and touch solutions, today announced the release to market of the IQS243. The IQS243 is Azoteq's latest addition to the ProxSense® family of capacitive proximity and touch controllers. The IQS243 sets new standards for proximity and touch sensing with a signal-to-noise ratio of 1000:1, which is 50 to 100 times better than competitive devices.
"Azoteq's ProxSense® provides the only capacitive sensing solution that is sensitive enough for reliable proximity detection over ranges in excess of 150mm", said Dr. Frederick Bruwer, CEO and President of Azoteq.
The IQS243 uses advanced analog and digital circuitry to achieve unparalleled proximity and touch performance. The high sensitivity enables the IQS243 to work reliably through glass up to 15mm thick and achieves proximity detection up to 150mm. The device can operate from 1.8 to 3.6V and achieves power consumption as low as 2.5μA while still sensing proximity and touch. The I2C compatible interface allows for full control of the sensor functions from a host controller.
"Azoteq provides the only proximity and touch solutions that enable designers to achieve first time success with their design due to the auto tuning and drift compensation features", said Kobus Marneweck, VP of Marketing at Azoteq. "These features also dramatically increase the manufacturability of the product by compensating for any changes in the environment", he added.
Azoteq will be releasing a full family of controllers during 4Q11 and 1Q12 based on the IQS243 technology. The family will expand function sets to include stand-alone devices, projected capacitive sensors and lower cost 2 channel SO-8 devices.
Functions:

3 Channel input device
Proximity & Touch on each channel
I2C interface
Automatic tuning to optimum sensitivity
Supply Voltage 1.8V to 3.6V
Multiple Low Power Modes
Internal voltage regulator and reference capacitor
Large proximity detection range
Automatic drift compensation
MSOP-10
Applications:
Consumer electronics – TVs, Blu-Ray players, Set-top boxes
White goods and appliances
Office equipment, toys, sanitary ware
Proximity detection that enables backlighting activation
Wake-up from standby applications
Replacement for electromechanical switches
GUI trigger and GUI control proximity detection
Pricing and Availability
The IQS243 will be priced at $0.39 in 1K quantities. Samples and production are available now. More information on the IQS243 can be obtained here.
About Azoteq (Pty) Ltd
Azoteq (Pty) Ltd (http://www.azoteq.com) is the world leader in proxmity and touch solutions for switches, sliders, scroll wheels and touch screens in consumer and industrial applications. Azoteq (Pty) Ltd has design and manufacturing centers in South Afica and China. Azoteq (Pty) Ltd has sales offices and distributors in South Africa, Asia, Europe and the USA.
IQ Switch®, ProxSense®, LightSenseTM, AirButton®, DYCALTM are trademarks of Azoteq (Pty) Ltd.
Editorial Contact & Interviews:
Kobus Marneweck
+1-512-538-1995
kobusm(at)azoteq(dot)com
http://www.azoteq.com
High-resolution images
http://www.flickr.com/photos/8223293@N06/6173034797/in/photostream
###