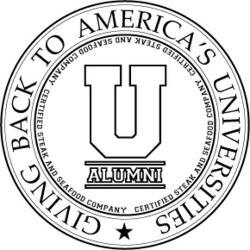 "We are excited to be able to make any kind of contribution to higher education institutions, and we hope we're able to make a positive impact to our country's academic needs," stated Steven Frisch
Jacksonville, Fl (PRWEB) September 29, 2011
In support of our country's educational institutions, Certified Steak and Seafood (CSS); an online retailer of premium quality steaks and seafood products, has launched the Alumni Give Back program. The program provides discounts to Alumni from institutions across America, with a portion of sales being donated back to their college or university.
The Give Back program is simple: Each university is provided a unique code that their Alumni use for purchases. The discount code provides them a 15% discount on their purchase, and Certified Steak and Seafood sends 10% of the purchase price back to their university.
Every year alumni gifts comprise roughly a quarter of voluntary support for U.S. universities. Alumni gifts typically fund financial aid (scholarships, grants and fellowships) for students, supplement faculty development budgets, support equipment and supplies purchases, and complement other funds at the universities.
The growing need of alumni funding for universities is here to stay, as the fragility and uncertainty of state subsidies for education intensify in the U.S. "We are excited to be able to make any kind of contribution to higher education institutions, and we hope we're able to make a positive impact to our country's academic needs," stated Steven Frisch; a partner at CSS.
The founders of Certified Steak and Seafood Company realize the hard work and lifelong benefit a college education can provide, and how strong Alumni can give back to their University.
About Certified Steak and Seafood Company
First and foremost, CSS is committed to offering consumers a better value and a better shopping experience than they could find anywhere else, with a quality process that is unmatched by any other steak and seafood retailers. For more information on CSS, visit our website at certifiedsteakandseafood.com or send an e-mail to Kevin Cook at kcook(at)certifiedsteakandseafood(dot)com.
###