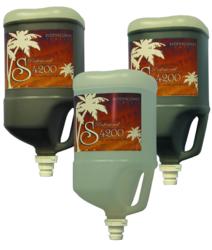 Compatible with most booths, S4200 is a high viscosity solution that is booth tested
St. Petersburg, FL (PRWEB) September 29, 2011
A veteran in spray tan product development, Biddiscombe International announces the S4200 sunless tanning product line for spray tan booths. S4200 is a rich, full viscosity and highly natural formula containing EcoCert organic dihydroxyacetone. Spray tan booth owners can now use the original clear solution or choose a cosmetic tint of Beach or Bronze. For ease and convenience, S4200 packaging easily adapts for use in VersaSpa spray booths, and its high viscosity formula has been extensively booth tested. S4200 contains no alcohol and is lightly scented with natural oils.
Recognizing that spray tan booth owners were frustrated with their limited choice of compatible tanning solutions, Biddiscombe developed a dispensing approach for its product that is both simple and compatible in the widely popular VersaSpa tanning booths. S4200, a proven high viscosity booth solution, is now available with cosmetic color options that include Beach, with a more pink tint and Bronze, with a more brown tint.
VersaSpa is a trademark of MT Manufacturing, Inc. and Sunless, Inc. Biddiscombe International is not associated with VersaSpa, MT Manufacturing, or Sunless, Inc. and these companies do not endorse S4200 as it is an alternative to the VersaSpa sunless solution marketed by them.
S4200 comes in 3.5 liter bottles equipped with an adapter kit which includes a dispensing cap, a ventilation punch and several plugs. Also available in booth dispensing packaging are a pre-tan preparation and after tan moisturizing spray. Volume discounts are available, making S4200's price very cost competitive to other booth solutions on the market. S4200 is available for purchase online through http://www.shopbiddiscombe.com to registered wholesale clients, or by calling 1-800-258-3313. Clients interested in getting a sample of S4200 can call for 32 ounce bottles with dispensing adaptor kits. Samples are free, but there is a small cost for shipping. Custom products for VersaSpa booths are also now a possibility, including custom tanning products and skin care treatments.
Biddiscombe prioritizes product freshness and availability while maintaining the GMP and organic certification standards for its manufacturing plant in St. Petersburg, Florida. Within the tanning industry, Biddiscombe is well known for offering the finest sunless tanning solutions, in addition to a comprehensive program of in-salon and retail sunless support products. Biddiscombe International's goal for tanning lotions and skin care products is to ensure that customers are provided with a truly pleasurable experience with magical skin feel, appealing fragrance and most importantly, notably visible results. Our manufacturing plant is an FDA-registered cosmetic facility that is approved to manufacture certified organic personal care products under the NOP (National Organic Program as administered by the USDA).
Tanning businesses interested in learning more about S4200 booth solution, or other Biddiscombe products and services can visit http://www.biddiscombe.com. To purchase Biddiscombe products at wholesale prices visit http://www.shopbiddiscombe.com. Tanning professionals interested in learning more about sunless spray tanning or private labeling a Biddiscombe product or creating their own formulation, should contact John Melville at 1-800-258-3313 or 1-727-299-9287 for more information.
###