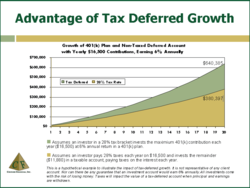 Small Business owners can serve themselves better by helping their employees
Sarasota, Florida (PRWEB) September 28, 2011
Many might still ask, what is a 401(k)?
A "401(k) Plan," according to Investopedia, "is a qualified plan established by employers to which eligible employees may make salary deferral (salary reduction) contributions on a post-tax and/or pretax basis. Employers offering a 401(k) plan may make matching or non-elective contributions to the plan on behalf of eligible employees and may also add a profit-sharing feature to the plan. Earnings accrue on a tax-deferred basis."
Unfortunately, in recent years, there has been significant mismanagement of those 401(k) plans. Many people, according to Mr. Phil Couture of Couture Financial, "haven't begun to see financial recovery since they have stayed on the sidelines during the current recovery." For small businesses, active management of 401(k) programs, as it relates to a fuller retirement plan, can potentially generate greater wealth for the business owners as well as the employees.
Couture Financial, has recently announced a small business retirement plan program that can:
(1) Provide retirement wealth for business owners while minimizing tax liability.
(2) Offer better financial guidance for employees by reducing 401(k) service fees for both the company and employees.
(3) Allow for better investment choices to be made throughout the organization.
"Small Business owners can serve themselves better by helping their employees," according to Couture Financial. A solid small business retirement plan can allow employees to effectively save for retirement, thus allowing employers to retain world-class talent; while at the same time, deferring tax on income up to an amount of several hundred thousand dollars per year for the business owner.
401(k) retirement plans have almost totally replaced "Defined Benefit" pension plans in the last ten years. According to a recent survey released last week by Fidelity Investments, most Americans do not understand their pension plans and yet they are more often now required to make their own investment choices in those plans. Most small business 401(k) plans have very limited investment choices ranging anywhere from ten to twenty investment choices. In addition, many of these plans have significant restrictions in the number of times allocations can be adjusted per year.
What makes Couture Financial different from many other retirement management solutions, "with about 25,000 investment choices we get to cherry pick the best managers," says Mr. Couture. Performance is a must during bull markets, and protecting wealth during bears, is part of our active investment management solution. With regard to 401(k) and small business retirement programs, the right investment mix depends significantly on the personality of the investors and their goals. For example, investment choices with low management fees may be good choices for some plan participants; however, there are occasions where funds with higher fees may be justified to achieve specific performance thresholds.
For the small business owner who is looking at generating wealth using retirement plans including 401(k) choices in their company, Couture Financial is offering a complimentary analysis to help them determine the most effective choices. The goal of this complimentary Small Business review is to quantify tactical programs that the small business owner may implement today – including the 401(k) plan – that might allow for significant wealth accumulation for everyone in the organization.
Contact Information:
Phil Couture, Couture Financial, Financial Friend & Advisor
3293 Fruitville Road, Suite 108, Sarasota, FL 34237-6453, Phone: 941.366.3551
Toll-free: 800.553.3385, http://www.couturefinancial.com
Advisory and Insurance services offered by Couture Financial, Inc. Securities offered through Calton & Associates, Inc., Member FINRA and SIPC. OSJ 14497 N Dale Mabry Hwy, Ste 214, Tampa FL 33618. 813.264.0440. Couture Financial, Inc. and Calton & Associates, Inc. are separate entities. Retirement plans contain securities whose values fluctuate with market conditions. A retirement plan's success is dependent upon many factors, and not all retirement plans result in successful outcomes. ALL investments involve different degrees of risk and may gain or lose over time.
Information contained in this document is not a recommendation, solicitation, or offer of when to buy or sell securities. Investments in securities are not FDIC insured, have no guarantee, and may lose value. No claim is made as to the suitability of Couture Financial or Calton & Associates, Inc., strategies for any individual or entity, or that they will prove profitable. Strategies may produce tax consequences. Investors should consult a tax professional to determine how such consequences could impact their tax situation. Investors also may incur fees and/or charges imposed by the custodian of their investment(s) and should refer to their prospectus(es) and custodial contract(s) for more details. Past Performance is No Guarantee of Future Results.
###