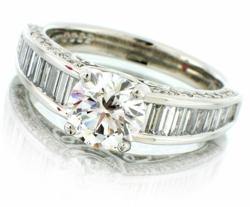 "For me, it is the perfect way to show my appreciation to the men and women who protect us. I want to hand this ring to them, look them in the eyes and tell them 'thank you' for all that they've done"
Atlanta, Georgia (PRWEB) September 27, 2011
Union Diamond (http://www.UnionDiamond.com), a leading online diamond jeweler announced today they will be awarding a $40,000 platinum and diamond engagement ring to one lucky member of the United States Armed Forces. The contest, titled "My Perfect Union", allows members of the military to nominate themselves or be nominated by friends or family members through a video submission and/or essay submitted to the website, http://www.MyPerfectUnion.com. All branches of the U.S. Military are eligible and encouraged to enter as are both active duty and retired members of the Armed Forces.
"When I immigrated to the United States of America more than 20 years ago, I had no idea what challenges and opportunities were in store for me. This great country has given me so much and I can't think of a better way to give back than to make this announcement" said Scott Anderson, President and CEO of Union Diamond.
The website started accepting submissions today, and the final recipient of the prize will be announced on December 6, 2011. The winner will receive a designer engagement setting in Precious Platinum set with an extraordinary D Color, Internally Flawless diamond, worth $40,000. The serviceman or servicewoman will be awarded the diamond ring in-person by Scott Anderson himself. "For me, it is the perfect way to show my appreciation to the men and women who protect us. I want to hand this ring to them, look them in the eyes and tell them 'thank you' for all that they've done" said Anderson, who ironically launched the website UnionDiamond.com on September 11, 2001.
"Having worked nearly nine years alongside Scott, I understand how important this is and how much it means to be able to do something for the people who deserve it most" said Barbara Palumbo, Senior Vice President of Union Diamond. "In particular, Scott wants to give away a truly extraordinary diamond, because those who protect our country do extraordinary things every day of their lives."
About Union Diamond
Selected as one of Forbes magazine's "Best of the Web", Union Diamond offers one of the largest and most diverse inventories of diamonds and jewelry available on the internet today, with over 60,000 individual finely cut certified diamonds in prices ranging from $300 to $3,000,000. Their award-winning online showroom is simple, clean, and easy to use, providing clear and concise information for every item selected. Union Diamond is headquartered in the prestigious Overlook III Tower in the Historic Vinings section of Atlanta where they welcome customers to visit their one-of-a-kind showroom high atop the city. All diamonds are certified by the Gemological Institute of America, European Gemological Laboratory, or the American Gem Society and include a 30-day return policy. For more information please call 800-319-9155 or visit http://www.UnionDiamond.com.
###