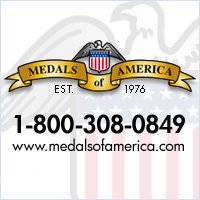 Medals of America is owned and run by veterans who understand the realities of war and the lasting impact on soldiers' lives.
Fountain Inn, SC (PRWEB) September 27, 2011
Medals of America, the premier source for military medals, military ribbons and more, understands the seriousness of Post-Traumatic Stress Disorder, or PTSD, and is doing its part to raise awareness and support this disorder through the release of new PTSD merchandise, including PTSD shirts, challenge coins and military hats. All PTSD items are great for both active and retired military members helping let all of our soldiers know that they are supported.
Close to one-third of all soldiers returning home after war suffer from this disorder. Despite being angry, confused and even suicidal, many of these men and women refuse to seek help—afraid it will be seen as a weakness or stigma. Sometimes, it is only through the aid of friends, family, and military leaders that these individuals pull through and can begin the healing process.
Post-Traumatic Stress Disorder is a type of anxiety disorder that often affects people after they have witnessed or experienced a traumatic event that threatened them with injury or death. Victims of this disorder may suffer from flashbacks, nightmares, severe anxiety, confusion, guilt and anger—all of which may result in thoughts of suicide. Many cannot stop thinking about the traumatic event, or events, that caused the PTSD. The sooner PTSD is diagnosed and treated, the better.
"Medals of America is owned and run by veterans who understand the realities of war and the lasting impact on soldiers' lives," said Lee Foster, COO, Medals of America. "We understand PTSD is a very serious issue concerning our soldiers returning from war. So, to help increase awareness, we are offering a new selection of products focused around PTSD. This disorder has been affecting our nation's military since the Civil War and we want to help give it the attention it deserves."
To help spread awareness about this disorder and how it affects our country's military, Medals of America is trying to do its part through the distribution of PTSD merchandise. It is important for those suffering from PTSD to know that they are not alone. Additionally, to support Vietnam Veterans with PTSD, Medals of America donates a portion of every purchase made through their VVA Store to the Vietnam Veterans of America Headquarters in Maryland.
About Medals of America
Medals of America is your premier source for Military Medals, Badges, Military Ribbons, Patches, Rank, Rates and Insignia, as well as Custom Embroidered Clothing. We're also proud to offer our exclusive Ribbon Rack Builder, Military Medals Builder and Custom Display Case Builder.
Veteran owned and operated for more than 35 years! Our mission is simple - we want every Veteran and Service person to display the Medals our grateful Nation awarded them. Anything we can do to have all the great Americans who served their country in the Military Forces display their award will enrich future generations by these symbols of Duty, Honor and Country.
###