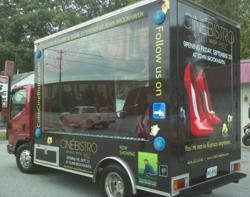 Bullseye Mobile Marketing brings the advertising message to the audience
Atlanta, GA (PRWEB) September 27, 2011
Bullseye Mobile Marketing based in Atlanta, GA, just announced the addition of their 3D mobile showcase for businesses to highlight their products and displays. The truck consists of a large 3 sided glass wall structure that also has interior lights for nightime visibility. Kyle Taylor, Bullseye's Manager comments, "By using Bullseye Marketing, businesses don't have to wait to advertise to the customer. We can bring the message to the customer in the right geographic and demographic platform and help generate large ROI's for that business."
Bullseye Mobile Marketing is a very cost effective means of spreading the message for businesses. Compare the CPM (Cost Per Thousand impressions) of Bullseye Mobile & Billboard marketing with that of traditional media like print or radio. The cost of Bullseye's CPM is around $1.00. Compare that with Radio and Print ad of around $30.00. In today's economic climate, small businesses have to advertise very smart and cost effectively. Bullseye Mobile Marketing fits that niche. Clients of Bullseye Mobile Marketing rave about the effects it's having on their business. The Atlanta Dental Spa is a well-known dental practice in Atlanta and Alpharetta. Dr. Peter Boulden comments,"Bullseye has been very instrumental in our advertising efforts. It is very helpful to spread the message of modern cosmetic and general dentistry in a cost-effective situation."
Additionally, studies have shown that mobile marketing generates more attention and retention than traditional media outlets. In fact, 96% of people surveyed indicated that the message on a mobile billboard is more impactful than that of a static billboard. As we stated above, the best attribute of mobile marketing is that we can control the audience in which we want to advertise to and Bullseye brings the message to them.
If you are looking at Billboards in Atlanta or Mobile Marketing in Atlanta contact Bullseye at 678-718-2855
###