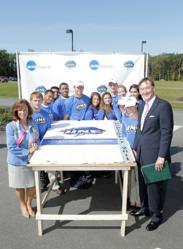 "Today...we celebrate another milestone – the Harold Alfond Athletics Complex, reflecting the foundation's $10 million gift, our largest ever."

UNE President
Danielle N. Ripich, Ph.D.
Biddeford, Maine (PRWEB) September 26, 2011
The $20M Harold Alfond Athletics Complex is being constructed adjacent to University of New England's blue turf athletics field and new residence hall on UNE's Biddeford, Maine campus.
To a crowd of several hundred students, faculty, trustees, coaches and community leaders, UNE President Danielle N. Ripich, Ph.D. stated, "We are standing here today because of the tremendous generosity and vision of a man who was committed to the values of service, quality, humility, and hard work – Mr. Harold Alfond. It is because of his vision and his foresight that we are able to advance our vision for the university."
In 1995, the Harold Alfond Foundation donated $2.5 million to build UNE's first academic building, the Harold Alfond Center for Health Sciences, which remains the anchor for UNE's medical school, the only one in Maine. Ripich stated, "Today, with those seeds having firmly taken root, we celebrate another milestone – the Harold Alfond Athletics Complex, reflecting the foundation's $10 million gift, our largest ever."
Calling it "a groundbreaking like no other," Gregory W. Powell, chairman and chief executive officer of the Harold Alfond Foundation, said, "UNE is unbridled in your enthusiasm for growth…we are inspired by your progress. If Harold Alfond were here, he would be celebrating with us."
Ripich thanked the contractors partnering with UNE on the project who "share Harold Alfond's values…and build on Maine's quality of life while also strengthening its economy," including John Ryan from Wright Ryan Construction, Neal Favreau from Favreau Electric, Tim Hussey of Hussey Seating, Chris Jordan and Mike Johnson of Johnson & Jordan, and Jim Shaw of Gorham Sand & Gravel.
The new facility will provide the largest gathering space on both the Biddeford and Portland campuses. The project includes a 105,000-square-foot athletics complex featuring an ice hockey rink with 900 seats; a basketball court with 1,200 seats; classroom space; a fitness center; and multi-purpose indoor practice courts that can also be used for performances and other events, with a combined seating capacity of 3,000.
Two UNE student-athletes also expressed their thanks: Michelle Oswald, of Jay, Maine, member of the UNE field hockey team, and Scott McManaman, of Nova Scotia, member of the UNE ice hockey team. Oswald stated, "Harold Alfond's gift is immeasurable. It will enhance life-long wellness for many fortunate generations. It will be a source of pride within the university, and with the community. On behalf of the students at UNE – thank you."
In closing, President Ripich led the crowd in a cheer, "UNE, UNE, UNE…Alfond!" before casting Nor'easter/Alfond emblazoned baseball caps into the air in celebration. Members of the UNE Dance Team unveiled a ceremonial banner and invited everyone present to sign it.
The $10 million commitment from the Alfond Foundation includes a challenge grant. When UNE has successfully matched the $7 million Alfond gift with other donations in support of its mission, the foundation will gift an additional $3 million to be used for interprofessional health workforce education.
The facility is expected to be completed in fall 2012.
Named one of the best regional universities in America by U.S. News & World Report, UNE is a leader in health sciences education, biomedical research and the liberal arts. It offers student-centered, interdisciplinary programs in the College of Osteopathic Medicine, Westbrook College of Health Professions College of Arts and Sciencesl, College of Pharmacy, and the College of Graduate Studies. For more information, visit http://www.une.edu.
# # #