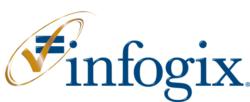 Naperville, IL (PRWEB) September 28, 2011
The Association for Financial Professionals will be holding their annual conference on November 6-9, 2011, one of the largest events for treasury and finance in the world. The conference will be held at the Boston Convention and Exhibition Center, in Boston.
The conference will provide the most up to date education and relevant information that directly impact the treasury and finance sectors. Current topics span from payments to risk management, treasury operations to financial planning and analysis. Attendees will get a fresh look at the emerging products and services that are changing the profession.
Infogix, Inc. will be exhibiting at the AFP Conference, located at booth #531. They will educate participants on Infogix' innovative portfolio of software products and services that monitor, detect, and prevent information errors. Their expertise will provide information on how Infogix solutions can help streamline operations and provide accurate and reliable information returns.
For more information: Click here
About Infogix, Inc.
Many of the world's largest enterprises depend on Infogix Controls to eliminate information errors. Infogix Controls are independent, automated and continuous. They can be deployed enterprise-wide across applications, platforms, and business processes. Infogix offers a powerful portfolio of software products and services (Infogix Controls Solutions) to monitor, detect, and prevent information errors. Since 1982, Infogix has been providing Infogix Controls Solutions to Global 2000 enterprises. Millions of Infogix Controls continuously monitor and assure the integrity of information in hundreds of enterprises each day. For more information, call +1.630.649.6800 (U.S, Canada, and International), or visit http://www.infogix.com today.
###