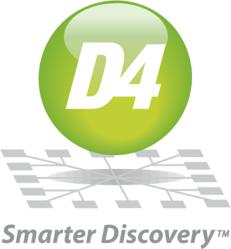 D4 was honored to be asked by kCura to speak at their annual conference this year
Chicago, Il (PRWEB) September 26, 2011
D4, LLC, a national leader in eDiscovery and digital forensics, is excited to announce that Tom Groom, VP of Discovery Engineering, will be featured on a panel at Relativity Fest, discussing the use of Relativity Applications. Relativity Fest, started yesterday and goes through September 27 in Chicago, is an annual user conference designed to educate and celebrate users of kCura's e-discovery software, Relativity.
"D4 was honored to be asked by kCura to speak at their annual conference this year" said Martha MacPherson, D4's Director of Marketing. "D4 is one of kCura's premium hosting partners and has been a Relativity "Best in Service" winner 3 years in a row. Tom Groom is a certified Relativity Admin and a well known expert in the field", continued MacPherson.
Spanning two-and-a-half days, Relativity Fest includes engaging panel discussions, hands-on labs, breakout sessions, and insights from both kCura staff members and end users: all designed to provide a rich educational experience.
For more information on Relativity Fest, please visit http://www.relativityfest.com.
About D4, LLC
D4, LLC is national leader in litigation support and e-Discovery services to law firms and corporate law departments. D4 covers the spectrum of the Electronic Discovery Reference Model (EDRM), from identification and preservation of data through forensic and targeted onsite data collection; from data analytics and defensible search methodology through hosted review and production. D4 assists attorneys in litigation response planning, strategies for negotiation of scope and meet-and-confer, computer forensics, expert testimony and cost reduction practices in litigation support projects. D4 was one of the first companies to introduce an eDiscovery Managed Service Solution, called eNtrust.
Founded in 1997 and through its combination and rebranding with Doculegal, D4 has grown to a national presence. With over 100 employees, D4 has offices in Rochester, Buffalo, Tampa, Lincoln, Omaha, New York City, Grand Rapids, San Jose, San Diego, San Francisco, Denver, Washington DC and Providence, RI. State-of-the-art data center operations in Rochester are complemented by electronic discovery and litigation support paper document services throughout the United States. In 2010, D4 was recognized in the "Top Five" of the "Rochester Top 100", honoring the fastest growing companies in Western New York. In 2011, D4 landed on the INC. 500/5000 list honoring the fastest growing private companies in America. For more information contact D4 at marketing@d4discovery or visit http://www.d4discovery.com
About kCura
Recognized as a "Leader" in Gartner's 2011 E-Discovery Magic Quadrant and one of Chicago's 101 Best and Brightest Companies to Work For, kCura are the developers of the e-discovery software Relativity, a web-based platform for the review, analysis, and production of electronic data. Relativity has more than 40,000 active users worldwide from organizations including the U.S. Department of Justice and 95 of the top 100 law firms in the United States. Relativity also powers Method, kCura's workflow and notification system for managing legal hold and risk assessment processes. kCura helps corporations, law firms, and government agencies meet e-discovery challenges by installing Relativity and Method on-premises and providing hosted, on-demand solutions through a global network of partners. For more information, contact kCura at info(at)kcura(dot)com or visit http://www.kcura.com.
###