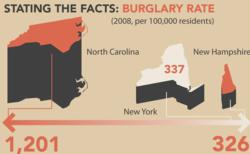 A home burglary takes place every 14 seconds in the United States
Las Vegas, NV (PRWEB) September 28, 2011
In an uncertain time, with an economy that can be conducive to burglary and theft, many of us are still not aware of the kind of statistics that are out there with regard to burglary and break-ins. While it seems as though a home break-in might be a last resort for criminals, the reality is quite different.
Invading your house can mean a quick haul and a tidy sum for the criminal. It's a little known fact that most burglaries take place in broad daylight and won't take more than a minute or two to accomplish. The burglar is typically in and out before neighbors or friends know what happened or can alert you. Worse-and more dangerous-some burglaries actually take place during the night time, while you are asleep in your home.
Authority Safes wants to help you to educate yourself and your customers by providing you with a free info graphic that you can use on your website or just read over to learn a little more about this prolific crime.
Filled with information gleaned from such experts as the FBI and aggregate law enforcement agencies, the Authority Safes Burglary Infographic can help you to know the score about home burglaries.
Burglaries are more prevalent than ever before. According to the new Burglary infographic by Authority Safes, a home burglary takes place every 14 seconds in the United States. On average, these burglaries cost Americans about 3000 dollars every time there is a break-in.
Learning how they happen, when they happen and what the most commonly stolen goods in a burglary are means that you are better equipped to protect your property.
To view or download the Authority Safes info-graphic, please visit the Authority Safes website, located at http://www.authoritysafes.com/burglary-statistics.html
To Speak with Authority Safes, or for more information about our company and info graphics, you may reach us by email at janel(at)authoritysafes(dot)com or telephone Authority Safes at (818) 392-0060. Authority Safes can be reached Monday to Friday 9am-5pm MST.
###