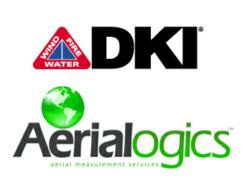 Partnering with Aerialogics gives our Members access to aerial property measurements and forensic hail data in one convenient service.
Nashua, NH (PRWEB) September 29, 2011
Aerialogics, a leading supplier of aerial measurement services to U.S. and Canadian roofing, insurance and solar industries, announced today its formal technology partnership agreement with DKI Procurement, DKI Procurement is the cooperative buying program for DKI, North America's Largest Disaster Restoration Contracting Organization. DKI returns damaged property to its pre-loss condition quickly and efficiently, delivering complete satisfaction to consumer, insurance, and corporate customers. Under terms of the agreement, DKI Procurement will exclusively market Aerialogics' aerial measurement reporting services to the DKI Membership to gain greater measurement accuracy and increased response time in the documentation of property damage claims and executing roofing projects with less material waste. Aerialogics' measurements are accurate to within 1-2% of actual measurements and are often more accurate than manual measurements. Timely aerial measurement reporting reduces estimating, liability, and project material costs, while expediting the processing of property claims.
"Partnering with Aerialogics gives our Members access to aerial property measurements and forensic hail data in one convenient service," said DKI's president, Dale Sailer. "Our Members are evaluated on their responsiveness and quality of work every day. DKI Procurement is focused on implementing new technologies that reduce costs and improve business results for our Members. Access to Aerialogics' technology means our Members obtain timely, accurate, objective data that will reduce claims processing costs, mitigate conflicts and delays, and further support our goal of achieving high levels of customer satisfaction on every job," said Mr. Sailer.
"We are honored to have been selected by DKI Procurement to be of service to their Members, who are committed to being on the front lines of restoring people's homes and livelihoods, wherever catastrophe strikes," said Andrew Zickell, Aerialogics' Senior Vice President, adding, "the partnership is a great fit because both parties strive to use the best technologies in delivering services geared to superior results for our respective customers."
AERIALOGICS is a pioneer in aerial measurement services for the U.S. roofing, insurance, and solar industries. Our expertise converting aerial images of properties into accurate, diagramed measurements in 24-hours-or-less reduces estimating costs and improves operational productivity. For more information please visit: http://www.aerialogics.com.
DKI PROCUREMENT DKI Procurement, an offering of DKI Market Services, LLC, makes it easy for DKI Members and DIAMOND Service Providers to save money on equipment and business service purchases for their business, and to earn rebates and discounts on purchases they are already making for their businesses. DKI Procurement is available exclusively to the DKI organization. DKI and its affiliate companies provide sophisticated property loss management services to insurance companies, property managers, and risk management professionals, along with co-operative buying services, training and education programs, cutting-edge technology and other value-added services to the specialty contractor market. DKI is available 24 hours a day, 365 days a year. For more information, please visit http://www.dkiprocurement.com.
# ##