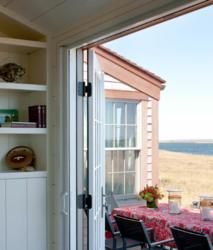 Moger's passion and inspired design philosophy prevented us from destroying a treasure.
Nantucket, MA (PRWEB) September 27, 2011
A historic fishing cottage was recently preserved and converted to modern eco-friendly home. Matthew Moger, a principal at Moger • Mehrhof Architects is a veteran of sustainable design and architecture. Matthew worked with the property owners Ted and Kim Goodnow to preserve one of the few remaining fisherman's shacks on Nantucket Island and preventing it from demolition. Despite the myriad problems with the run down shack, Moger designed a highly efficient, sustainable, luxury getaway cottage with a footprint of only 1,040 square feet.
The site of the cottage dubbed "West Wind" sits on delicate nature-preserved land in Madaket, a small fishing village in western Nantucket. "This project was a unique challenge from the first day," says Moger. "The Goodnow's and I were passionate about preserving the heritage of the fisherman's cottage. It's critical to be true to the indigenous architecture of the region, celebrate the natural beauty of its surroundings, while maximizing every square inch of the shack. These principles inspired the design."
Some of the sustainable design features include: using local petrified wood as a fireplace surround, a vanity surface glows from within to provide light without additional fixtures, a Murphy bed and a convertible room design that changes it function easily. Despite the economy of space, the cottage is steeped in luxury.
"Matthew Moger convinced us to scrap our original plans for demolition," says owner Ted Goodnow. "His vision and sustainable design philosophy enabled us to live in a home that truly celebrates the rustic sea side surroundings and pays homage to its unique history. Livable? You bet. It's an elegant space to live in. It's totally cool."
Recycled materials were used throughout the luxury cottage to help it earn a NAHB Gold Rating for sustainable design and construction.
###