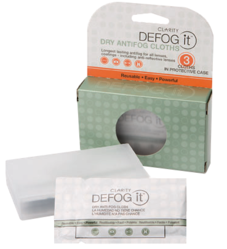 We'll be showing safety professionals that Defog It stops fogged safety glasses when others fail. That can increase safety eyewear compliance, preventing injuries and reducing the costs of insurance, lost time and workers compensation
Valley View, OH (PRWEB) September 27, 2011
Defog It anti fog announced today that it will be demonstrating the product's performance, sharing eye safety resources, and providing free product samples at the Incident Prevention Safety Conference & Expo, October 4-6 at the Kentucky Exposition Center in Louisville, Kentucky. The conference is the utility industry's leading education event attracting 25,000 safety, training and operations professionals employed by utilities, contractors and communication providers.
"We'll be showing safety professionals that Defog It stops fogged safety glasses when others fail. That can increase safety eyewear compliance, preventing injuries and reducing the costs of insurance, lost time and workers compensation," said Jodi Groh, Director of Marketing for Nanofilm, maker of Defog It.
First used by the military worldwide, Defog It anti fog is proven in the toughest workplace environments where heat, cold, humidity and exertion cause fogged safety eyewear. Defog It is available as a liquid or reusable cloths and is safe and effective on safety glasses, goggles and faceshields.
Lab tests confirm the Defog It's high performance. In one test, a lens treated with Defog It was held over constant hot steam for 60 minutes without fog forming. Similar products failed in as little as 5 minutes. In another test, lenses coated with Clarity Defog It were moved between cold and hot environments 100 times without fog forming.
Information on Defog It anti fog, including performance videos, product information, reviews, case studies and other resources are available at http://www.defogitworks.com.
Nanofilm (http://www.nanofilmproducts.com), founded in 1985, is the maker of Clarity Defog It and a global optical leader in lens care and coatings. Millions of people around the world use Nanofilm products, including Clarity Clean It™, Clarity Defog It™ and other lens care products, as well as nanotechnology-enabled coatings.
###