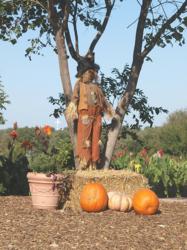 Weatherford, TX (PRWEB) September 27, 2011
Clark Gardens hosts the hottest festival around this Saturday, October 1st. Clark Gardens is a short drive from the Dallas Ft Worth Metroplex and will hosts North Texas Spiciest Festival Around!! The day starts at 8 am with the half marathon and 5K with festival activities starting at 9:30 am.
Upon entering Clark Gardens festival goers will be escorted down Scarecrow Alley to the West Garden by some of the cutest scarecrows ever seen and serenaded by the strolling, talented Mariachi Jalisciense.
Once in the West Garden, festival goers will need to hold on to their taste buds. North Texas' finest award winning hottest and best hot sauce and salsa around will be sampled. Salsa makers include Hearron Farms; Burnt Orange Texas Salsa and Half-Breed Salsa. And if the salsa isn't hot enough try the awarding winning Ol'Gringos hot sauce.
Next up is the Chili Cook-off sponsored by Tom West of Ol'Gringos. Among the ten entries are three local banks: First State Bank, First Financial Bank of Mineral Wells and First National Bank of Santo. Seven other teams, determined to show those bankers a thing or two, include David Smith, Maria Villa, Kevin Lagle, Wesley Ford, Jim Wilcher and Brent Butler of Garner Café. Five judges will determine the overall winner but the People's Choice is up to the festival attendees.
Cooking demonstrations will be held in the Rose Pavilion. and include "Chocolate Candy with a Kick," grilling hot and spicy stuffed jalapenos, soup shooters, Corn and Black Bean Salsa and recipes for homemade tamales.
And while festival goers are enjoying the culinary delights, music and entertainment will be provided. At 9:30 am is Billy Blaze, followed by Salsa and Latino dancer David Herrera. Closing out the festival entertainment is the Ballet Folklorico Azetca de Fort Worth. This non-profit performing arts organization will share their mission of promoting Mexican heritage and encouraging multicultural understanding through dance and music.
Children's activities include a scarecrow making area, a 'punkin' face painting area and a horticultural activity of planting a Red Bud Tree in a biodegradable, recycled container.
Along the way shop in the Clark Garden vendor tent and enjoy the beverage and food vendors.
Fees: Garden Admission including festival admission on Saturday, October 1 is $10.00/adult and $5.00 children 5-12 years of age; Children 4 and under are free. Clark Garden members-No Charge. (no coupons, reciprocal membership or rainy day passes accepted on festival days).
Address: 567 Maddux Road, Weatherford, TX 76088
Website: http://www.clarkgardens.org
Facebook: http://www.facebook.com/clarkgardens Twitter: http://twitter.com/#!/clarkgardens
Contact Information:
Phone Number: 940.682.4856; email: carol(at)clarkgardens(dot)com
###