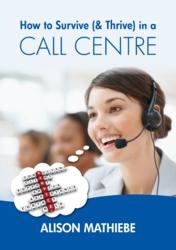 (PRWEB) September 29, 2011
A new book designed to help call centre agents is now available from Amazon and the iBookstore: 'How to Survive (& Thrive) in a Call Centre' by Alison Mathiebe.
'How to Survive (& Thrive) in a Call Centre' is a solution-filled book designed to improve the careers of call centre agents. The call centre is the hub, the heartbeat, of every form of business. Without a precision call centre, the heart stops. For the staff, the call centre is often adrenalin-charged through the sheer volume of calls and there is personal satisfaction that comes from balancing the unpredictable human caller and the well-defined procedure.
Alison Mathiebe, an award-winning call centre manager and trainer, provides stable, sensible solutions for call centre agents with the calming voice of a mentor. She covers:
How to reduce stress
How to contribute to the call centre's success
How to provide outstanding customer service
How to increase sales results and maximise bonus opportunities
How to improve overall performance
How to advance your career
When Alison completed university she dreamed of working in a museum… but she had to survive. While she waited to land a coveted position in a museum, she took a job in a call centre and designed a career. Her success documents accepting a stop-gap job and carving a future in a sustainable field with more promise than she ever imagined. A proactive problem-solver, she concentrated on solutions to call centre issues. Alison Mathiebe recast a potential dead-end into a satisfying, financially sound career pathway. To every stressed out call centre employee, she brings guidance and strategies that work.
What others are saying about 'How to Survive (& Thrive) in a Call Centre':
"'How to Survive (& Thrive) in a Call Centre' by Alison Mathiebe is a very welcome contribution which will help call centres to guide, support, and inform new and existing call centre staff. In particular, it would prove a useful text to give to all new staff helping them understand and adjust to working in stimulating and sometimes challenging environments. The 24 chapters address the main topics and are short enough to provide bite-size learning for agents and operators." -- John P. Wilson author of 'The Call Centre Training Handbook'
"Alison Mathiebe has written a book that is clear, concise and comes from evident practical experience. It is certain to boost the confidence and success of those just entering (or considering) the profession, and is a great go-to resource for established call centre agents." -- Brad Cleveland, bradcleveland.com/blog, Author, 'Call Center Management on Fast Forward' (ICMI Press)
'How to Survive (& Thrive) in a Call Centre' is now available on Amazon and the iBookstore.
http://www.amazon.com/dp/B005JTNFWW
http://itunes.apple.com/us/book/how-to-survive-thrive-in-call/id459818839?mt=11
For further information, see Alison's website, http://www.callcentreknowhow.com, or email Alison(at)callcentreknowhow(dot)com.
# # #