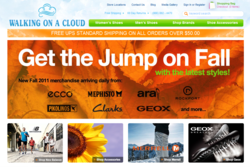 (PRWEB) September 27, 2011
Fall is here and Walking on a Cloud has great new offerings to beat the chill. Always a frontrunner in the footwear business with reputable, high-quality brands, Walking on a Cloud's Fall Catalogue features 800 new styles of men's and women's shoes and boots. Clarks Shoes makes a large contribution with their various lines: Clarks Unstructured, popular for their unique and trendy designs; Privo by Clarks - lightweight casual and sport shoes with bubbled insoles to promote circulation; and Clarks Originals showcasing classic Clarks styling. The Clarks brand prides itself for their Air Circulation System, which pushes moist air out of the shoe while allowing fresh, dry air to flow in, keeping feet comfortable and ambient during the transition into fall sock weather. Additions from Merrell Shoes' Origins collection equip feet for the fall outdoors with Merrell Air Cushion soles, Ortholite anatomical footbeds with Aegis Antimicrobial Treatment, as well as molded inner support, waterproofing and sticky rubber soles. Ecco Shoes, Rockport Shoes and Timberland footwear also make for great mentions in the Fall Catalogue, with dressy and dress casual styles as well outdoor items that appeal to any use or occasion.
Walking on a Cloud is also proud to announce a recent new store opening this season at the Lawrence Plaza in Toronto. Conveniently located at Bathurst St. and Lawrence Ave, West, the Lawrence Plaza store joins a great repertoire of retail outlets for a dynamic shopping experience in North York, Ontario. The Lawrence Plaza store adds to an already vast number of locations as one of 36 throughout Ontario.
Walkingonacloud.com is also offering great incentives to take advantage of their fun fall footwear. Until October 3, 2011, shoppers can apply a 10% discount on all purchases using promotional code F2011, during secure online checkout. As always, Walkingonacloud.com also offers free standard shipping on all purchases over $50.00.
To browse all styles in the Walking on a Cloud Fall 2011 Catalogue, visit http://www.walkingonacloud.com.
About Walking on a Cloud
Walkingonacloud.com is a leading online footwear retailer of prestigious high-quality and comfort-oriented brands and offers over 7000 skus. In addition, Walking on a Cloud operates over 35 retail outlets within major shopping hubs across Ontario.
# # #