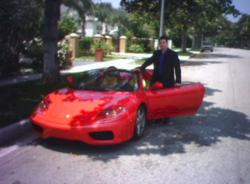 Brian Daniel's strong work ethic is unquestionably remarkable. He is a man of his word and his ideas for solving impossible problems are beyond measure.

Bob Corff
Voice Coach to the Stars
Los Angeles, California (PRWEB) September 28, 2011
The Celebrity Personal Assistant Network places personal assistants with celebrities, executives, and high net worth families; and now serves all U.S. markets including but not limited to Los Angeles, San Francisco, Las Vegas, Chicago, New York City, Washington DC, and Miami. Founded by veteran celebrity personal assistant Brian Daniel, The Network is the only employment agency that deals exclusively with high-end personal assistants and estate managers.
Other personal assistant recruiters that make claims to be "celebrity personal assistant headhunters" have rarely, if ever, done the job themselves, which completely sets celebrity headhunter Brian Daniel apart from the rest. It takes a very special perspective to understand what a personal assistant to the rich and famous does, and having worn that hat before is essential to realizing what kind of thick skin and perseverance it takes. The fact is that personal assistants are no longer just errand runners. Celebrity PAs play a very active role in managing the day-to-day business operations of the VIP's life and image, and that's why elite assistants are sometimes referred to as "Lifestyle Managers". They manage yachts, exotic car fleets, private jets, household staff, and extensive calendars – both personal and professional.
For employers looking to hire a personal assistant, a celebrity PA from just about any industry can be found at The Network, which has clients from a wide array of fields: CEOs of Fortune 500 companies, politicians, fashion designers, book authors, Hollywood A-list celebrities, directors, producers, musicians, financial wizards, entrepreneurs, and other icons of industry. Sometimes referred to as "The Celebrity Whisperer" or "Headhunter to the Stars," Brian Daniel has a knack for celebrity staffing because his success rate for placements is very high.
In an era of declining customer services standards, Brian Daniel is single-handedly reinventing the way premier personal assistants are recruited. Other high-volume, "Jack of all trades" employment agencies try to be all things to all people. In addition to handling personal assistants, the garden-variety domestic staffing agency has nannies, chefs, personal trainers, maids, security personnel, gardeners, housekeepers, chauffeurs, butlers and birthday clowns. So having thousands of names in a database is, simply put, impersonal for both the employers and candidates in every way.
Brian Daniel focuses on establishing long-lasting and professional relationships with his clients, so he's not just looking to score a commission like most employment agents and recruiters. The Celebrity Personal Assistant Network is truly a boutique employment agency that always strives for 5-star concierge service. Additionally, Brian Daniel is known for his exhaustive qualification process that completely eclipses other headhunters in the industry.
The Network isn't just employer-friendly because they also are a safe haven for celebrity personal assistants and estate managers who are looking for personal assistant jobs. Candidates can always count on being treated with respect and dignity, which isn't the norm in this exclusive world.
To learn more information about hiring personal assistants, visit The Celebrity Personal Assistant Network and a member of their staff is ready to serve you 24/7/365. International placements in Europe, Asia, and the Middle East are also available.
###