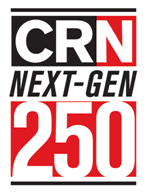 In today's competitive environment solution providers have to do more than just talk about innovation. The ability to quickly implement new processes, models and technologies is what drives margins and the bottom line.
Minneapolis, MN (PRWEB) September 27, 2011
Everything Channel has announced that Minneapolis based Virteva has been named to the first ever 2011 CRN Next-Gen 250 list. The CRN Next-Gen 250 is an annual listing of innovative and nimble business and technology integrators, solution providers, and resellers in North America offering solutions and services in cloud computing, mobility, unified communications, virtualization and other emerging technologies.
The CRN Next-Generation 250 list is comprised of the most exciting new solution provider organizations (founded 2000-2011) bringing new and emerging implementation ideas and business models to the market. In selecting Virteva as a recipient of the Next-Gen 250 award, CRN noted Virteva's innovative Private Cloud service offering that allows customers to deploy virtual servers and virtual desktops on Virteva's infrastructure, while having the option of deploying the same Private Cloud stack on-premise.
"The New Desktop and The Virtual Data Center are front and center in every conversation I have with CIOs today", said Tom Kieffer, CEO of Virteva. "Windows 7 migrations, the virtualization of applications, users and operating systems, and the proliferation of mobile devices is creating a golden opportunity for businesses of all types to re-think how the desktop is deployed and managed. These technologies are all converging at the same time, and this New Desktop opportunity is one that Virteva has tremendous experience with and is well positioned to accelerate," Kieffer added.
"In today's competitive environment solution providers have to do more than just talk about innovation. The ability to quickly implement new processes, models and technologies is what drives margins and the bottom line," said Kelley Damore, VP, Editorial Director, Everything Channel. "The CRN Next-gen 250 highlights the most interesting new solution providers who are demonstrating such innovation and uncovers the new techniques and technologies that are driving their success."
"As we planned for our next generation IT infrastructure, we realized we didn't want to be the last business in town to buy a server," said Doug Reynolds, COO of Digineer, the lighthouse customer on Virteva's Private Cloud. "Using Virteva's Virtual Data Center, we can deliver secure, virtual desktops to our employees and we can spin up secure virtual servers and hosting environments in a moments notice, and from our view, we have virtually unlimited capacity to scale", Reynolds added.
About Virteva
Virteva designs, builds and runs uniquely efficient IT platforms for business customers nationwide. By delivering IT On Your Terms™, a blend of premise-based and cloud-based services, Virteva complements and extends customer's IT resources by improving operational performance and reducing IT spend.
Virteva's thought leadership is endorsed by partnerships including Microsoft, Cisco, Citrix, VMware, and leading hosting and cloud service providers.
For more information on Virteva, visit http://www.virteva.com
About Everything Channel
Everything Channel is the premier provider of IT channel-focused events, media, research, consulting, and sales and marketing services. With over 30 years of experience and engagement, Everything Channel has the unmatched channel expertise to execute integrated solutions for technology executives managing partner recruitment, enablement and go-to-market strategy in order to accelerate technology sales. Everything Channel is a UBM company. To learn more about Everything Channel, visit us at http://www.everythingchannel.com. Follow us on Twitter at http://twitter.com/everythingchnl.
UBM plc (http://www.ubm.com)
UBM plc is a leading global business media company. We inform markets and bring the world's buyers and sellers together at events, online, in print and provide them with the information they need to do business successfully. We focus on serving professional commercial communities, from doctors to game developers, from journalists to jewelry traders, from farmers to pharmacists around the world. Our 6,000 staff in more than 30 countries are organized into specialist teams that serve these communities, helping them to do business and their markets to work effectively and efficiently.
###