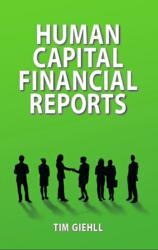 Tim Giehll knows what is important. He knows what he is talking about and in this book he has laid out a cogent and reliable model for everyone who must manage human capital.
Minneapolis, MN (PRWEB) September 27, 2011
Human Capital Financial Reports, Tim Giehll's newest book, will be available October 1, 2011 at Amazon.com. The book is a first of its kind guide to managing workforce revenues and improving the financial health of organizations. It expands upon Giehll's first book, Human Capital Supply Chains, which applies supply chain management to global workforce optimization.
Giehll will sign copies of Human Capital Financial Reports at the American Staffing Association's Staffing World 2011 (Booth 801) on October 11-14 in New Orleans.
A book release party with book signing will be hosted at the LEHRN (Leading Edge Human Resources Network) November 4, 2011 program where Giehll will be presenting the concepts in the book Human Capital Financial Reports. The LEHRN event will take place from 8am - 12pm in the auditorium at Thrivent Financial's Minneapolis office at 625 Fourth Avenue South. More information can be found at lehrn.org.
According to Dr. Jac Fitz-enz, founder of the Saratoga Institute and CEO of the Human Capital Institute, "Tim Giehll knows what is important. He knows what he is talking about and in this book he has laid out a cogent and reliable model for everyone who must manage human capital."
Giehll's book demonstrates the financial rewards achievable when organizations optimize the total workforce. He intertwines implementation challenges along with his description of how optimized talent flows in and out of organizations. The book also outlines new financial reporting statements including: revenue and human capital expense (R&E), talent sheet, and talent flow charts. These models lay the foundation for a revolutionary human capital financial reporting system that can improve the profitability and workforce performance while transforming SEC reporting requirements.
"Once human capital financial reporting is accepted by investors, CEOs and the SEC for 10k reporting, administrative tasks become simplified, innovation soars, information becomes global, and companies can shift their focus from their current net profit obsession to understanding true value of human capital," states author Tim Giehll.
About the Author
Tim Giehll is a well known staffing and HR industry thought leader who has done extensive research in the area of Human Capital Supply Chains and recently innovated the concept of Human Capital Financial Reports. Giehll has over 25 years of financial, manufacturing, staffing, HR and technology management experience. Currently Tim Giehll is CEO of Bond Talent US, a division of London stock market-listed Bond International Software.
Giehll has an MBA from the University of St. Thomas and has held leadership positions in companies such as Manpower, Sequent Computer Systems, Control Data Corporation and Supercomputer Systems Inc. He also serves on the Investor Metrics Workgroup within the Society for Human Resources (SHRM) Taskforce currently developing the American National Standards in the area of Measures and Metrics.
Giehll is a widely respected speaker with recent engagements including national events for CFO Magazine, The Conference Board, Thought Leadership Institute, American Staffing Association and Institute of Human Resources.
Human Capital Financial Reports (ISBN 13: 978-061553410-7) will available on Amazon.com, October 1, 2011 and can also be ordered online at: http://tinyurl.com/448v6d5
For more information, contact Tim Giehll at 715-828-0873.
###