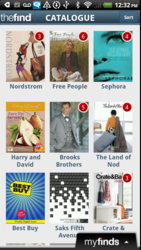 Mobile shopping is most useful when it can be your in-store companion, reassuring you about the price, providing additional information like coupons and product reviews, and helping you locate nearby stores which may also offer the same products
San Francisco, CA (PRWEB) September 27, 2011
TheFind, a leading mobile, tablet, and social commerce innovator and search engine, today released version 1.5 of its popular TheFind: Shopping mobile app for Android smart phones. Already used by millions of shoppers, TheFind: Shopping for Android version 1.5, adds the ability to browse popular catalogs and weekly circulars from retailers such as Crate & Barrel, Best Buy, Nordstrom, Zappos, Saks, J. Crew and more than 70 others. This new functionality complements the smart phone app's existing search, barcode scan, and local shopping capabilities and takes advantage of the higher resolution and larger-sized screens of the newer Android phones.
"Mobile shopping is most useful when it can be your in-store companion, reassuring you about the price, providing additional information like coupons and product reviews, and helping you locate nearby stores which may also offer the same products," said Ramneek Bhasin, TheFind's VP & GM of mobile. "Today we are taking this concept a giant step further by making it easier to discover new and showcased products from popular retailer's catalogs and weekly newspaper inserts while you're out and about. More practically, we are making it simple for you to bookmark the products you saw in print, tablet or smartphone based catalogs and store circulars while you were shopping at home, so you can easily find those products later on when you are shopping at the stores in the mall."
Available for immediate download in the various Android app marketplaces, the catalogue browsing functionality is limited to the new larger screen Android phones. These models include the Google Nexus-S, Samsung Galaxy, and HTC EVO phones. More information can be found at http://www.thefind.com/apps.
About TheFind
TheFind is a leading mobile, tablet and social commerce innovator and search engine. With patented search and discovery technology, TheFind makes it easy to shop for anything you like, in every store, all at once. TheFind leverages Facebook's Open Graph to rank stores and brands by consumer "Likes" in shopping search results and to personalize the company's multi-channel shopping experience. A pioneer in the tablet commerce space, TheFind redefined catalog shopping with the launch earlier this year of Catalogue by TheFind, a shopping app with more than 160 catalog titles. Ranked number 12 on the 2010 Inc. 500 list of fastest growing private companies, TheFind was founded in 2005 and is venture funded by Bain Capital Ventures, Lightspeed Venture Partners and Redpoint Ventures. TheFind is a San Francisco and Silicon Valley-based company.
###