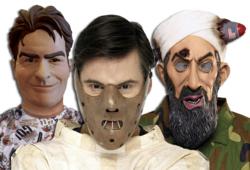 Adding a scary mask to your Halloween costume really brings the character to a whole different level. It really enhances the effect of your costume.
Mancos, CO (PRWEB) September 27, 2011
A large variety of costume masks are being offered at TotallyCostumes.com for the Halloween 2011 season. They carry all types including full overhead, chinless and half masks. Jaw moving action masks are one of their newer and more popular choices for the year.
Scary Halloween masks have become a staple category and classic accessory choice at this online costume store. Not only are there the usual ghosts and ghouls, but the consumer will also find the iconic Hannibal Lecter Mask and the similar Slipknot Paul Mask. The classic monsters from scary movies can be found in this horror mask selection such as Frankenstein, Freddy Krueger, Jason Voorhees, Predator, Leatherface and Dracula masks to name a few. Fairy tale villains can also be found such as Lord of the Rings Orc and the Evil Witch from Snow White. The choices for classic favorites within the Scary Halloween Mask selection are endless with skull, mummy, scarecrow, demon, devil, werewolf and zombie masks. TotallyCostumes.com boasts of a complete selection for everyone's Halloween needs. The scary clown mask is always a crowd pleaser.
"Adding a scary mask to your Halloween costume really brings the character to a whole different level," explained Nova of TotallyCostumes.com. "It really enhances the effect of your costume. The detail and realism of the scary mask will bring the terrifying and frightening results that one tries to achieve with a Halloween costume."
A scary mask allows the customer to customize the look of their costume. A grim reaper costume can have many looks depending on the choice of mask used for the character. For a classic look, a full overhead skull mask can be chosen to wear within the black hooded robe. A chinless or half skull mask is a more comfortable choice if the wearer is looking to be able to easily communicate, eat and drink. Added realism can be achieved with an action jaw moving mask known as a Motion Mask. The realistic mouth movements create a super scary and realistic effect.
Not only is a full selection of scary masks for Halloween offered at TotallyCostumes.com, but the consumer can also find a selection of Mardi Gras masks, kids' masks, animal and bug masks, funny masks and celebrity masks. The Mardi Gras and masquerade masks are a style that can be used for celebrations year round. The sequins, peacock feathers and Venetian accents of the masquerade masks make them an enhancing accessory for adding mystery to any character.
The Famous People and Celebrity Masks are always a best selling category at TotallyCostumes.com. Nova stated that she believes it can only get more popular with the new faces of Charlie Sheen, Osama Bin Laden, Daffy Gaddafi, Slipknot Paul and Michael Jackson among the new styles for 2011. Classic celebrity masks such as David Letterman, KISS Demon, Tiger Woods, Jay Leno, The Three Stooges and Tony Blair remain customer favorites. With election polls around the corner, the comical caricature masks of Arnold Schwarzenegger, Barack Obama, Hillary Clinton and George W. Bush will join the sales toppers.
About the Company:
TotallyCostumes.com, a leading retailer of costumes and costume accessories for all occasions, makes sure the party never stops! This e-commerce costume retailer believes in carrying a large selection of high quality costumes in all sizes, styles and themes to fulfill any party, costume or event requirement. They have a dynamic team that works together so their customers receive their order quickly. Their friendly customer care team is dedicated to providing their customers with diligent service while their shipping facilities work efficiently in shipping your order out as quickly as possible.
# # #