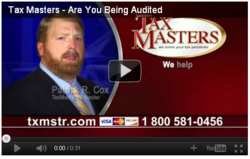 Are you being audited? Are you facing a tax crisis?
Houston, TX (PRWEB) September 27, 2011
Tax Masters commercials starring founder, Patrick Cox have acquired quite a following over the past few years. Because the demand has become so great, Tax Masters is pleased to announce these commercials are now available for viewing on the Tax Masters Website in a new sub-section, videos.txmstr.com. Listen to Patrick Cox impart the different ways Tax Masters can help delinquent taxpayers get out of trouble with the IRS. As Patrick Cox states, "Are you being audited? Are you facing a tax crisis? Tax Masters has helped many good people just like you!"
Though the backgrounds may change and the season may vary, one thing remains constant: Patrick Cox. From his red hair to his red beard, Patrick Cox has become as much a symbol of Tax Masters as their familiar logo. Watch all nine videos on the commercials page and take a look at what TaxMasters employees have to say. Don't forget to watch the holiday video! It's a familiar reminder that Tax Masters is there for taxpayers regardless of the season; Tax Masters knows that the holidays can be very difficult for families struggling with tax debt.
Aside from just being entertaining, Tax Masters commercials offer consumers a good representation of the services offered. If a taxpayer needs help with a tax problem, a tax settlement, or if the IRS is visiting a taxpayer at his or her home or place of business, they can call on Tax Masters for help. Tax Masters has the right people with the right skill sets to protect taxpayers from the IRS; they can even help delinquent taxpayers avoid wage garnishment or a tax levy.
Tax Masters commercials have become so popular that people have begun creating their own Tax Masters spoof ads. While these ads were not created by Patrick Cox and his team, they are creative and show how much of a foothold Tax Masters has created for itself in the online video market.
About TaxMasters, Inc.
TaxMasters, Inc. (OTCBB: TAXS) is the first publicly traded tax representation firm in the United States. Started by Patrick R. Cox in 2001, TaxMasters offers a full suite of compliance and repayment services to taxpayers across the country facing seemingly insurmountable tax problems and substantial federal tax debt. Tax services from TaxMasters include IRS consultations, tax return preparation, settlement analysis, and assistance with IRS automated collections, Revenue Officer involvement and collection due process.
Employing over 250 people, TaxMasters leverages the expertise of ex-IRS agents, enrolled agents, attorneys, CPAs, and sales consultants ready to counsel and assist the US taxpayer with their specific tax problems today. TaxMasters is not a law firm or a CPA firm.
For more information about TaxMasters, Inc. and its commitment to help taxpayers in the United States solve tax problems, please visit http://www.txmstr.com.
Follow TaxMasters on Twitter at http://twitter.com/gotaxmasters.
Visit TaxMasters' blog at http://www.txmstr.com/blog/
Forward-Looking Statements
Any forward-looking statements, as defined in the Securities Exchange Act of 1934, in this release (often identified by such words as "believes," "expects," "beginning," "intended," "planned") regarding future expectations, objectives, and plans for TaxMasters, Inc. are based on opinions and estimates of management at the time the statement was made. Various known and unknown factors may cause actual results to be materially different from the expected outcomes. TaxMasters, Inc. does not, as a matter of policy, update or revise forward-looking statements. Actual results may vary materially.
###