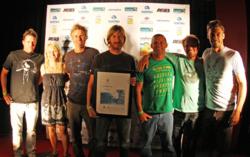 "Our goal with CooWeeMe is to help showcase adventures of any kind but preferably ones with an environmental cause. Working with Dave Rastovich on the TransparentSea Voyage is the perfect partnership" - Will Conner
St. Augustine, FL (PRWEB) September 28, 2011
For several years CooWeeMe (http://cooweeme.com) has been a global social networking site. Promoting global issues and adventure travel has always been a part of the sites plan to bring a strong awareness of outstanding environmental topics. Now in addition to offering the unique feature of following an individual's journey, CooWeeMe has expanded social networking to provide tracking for larger causes. The TransparentSea Voyage lead by pro-surfer Dave Rastovich is a perfect example.
"Our goal with CooWeeMe is to help showcase adventures of any kind but preferably ones with an environmental cause. Working with Dave Rastovich on the TransparentSea Voyage is the perfect partnership because members and fans can use CooWeeMe to track the voyage along the California's coast in a unique and interactive way" said CooWeeMe creator, Will Conner.
Lead by professional free surfer Dave Rastovich, crewmembers sail in one-man trimarans down the coast of California starting October 1st. The crew will follow the Grey Whale migration while raising awareness about ocean health.
"CooWeeMe is a perfect fit for any adventure, including those at sea," stated Conner. "We simply set up the latitude and longitude into the profile of TransparentSea and people can see exactly where the voyage is and the events it will host as it stops along the way".
In addition to providing adventure tracking, CooWeeMe also has the ability to feed data from other sites and display it in unique ways. Users can create an account and promote local events in any town with the data feed. Larger adventures and causes can work with CooWeeMe directly to market and track their event in order to bring awareness to their cause. Currently the social media site displays 602,506 events, 170,303 performers and 156,878 businesses in over 41,835 towns worldwide.
Adventurists, charity organizations and fans interested in learning more about CooWeeMe and the charity causes they support can visit http://cooweeme.com. Those interested in showcasing their adventure should contact Will Conner at will@bchats.com for more information. Track Dave Rastovich and the TransparentSea adventure by visiting CooWeeMe and simply enter your e-mail to follow the trip.
About CooWeeMe.com
CooWeeMe is a website that allows people to see what is happening in geographic locations within towns. A user simply types in the town they want to see and explores from there. People can add their e-mail to follow their favorite band, business or even follow a town. It's also a social site, so if you want to get involved you can choose from four different profile types
About The TransparentSea Voyage:
TransparentSea is an ongoing awareness campaign aimed at highlighting coastal environmental issues with particular attention given to cetaceans (whales and dolphins) and the waters they inhabit. The upcoming journey lead by Dave Rastovich and his crew will promote ocean awareness by on following the southern migration of the California Grey Whale. The voyage during the month of October begins just north of Santa Barbara and concludes near the USA-Mexico border, home to the grey whale's mating and calving lagoons.
###