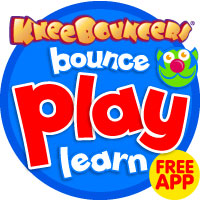 We believe in play. We love play. So, we are inviting everyone everywhere to play with us."
Washington, DC (PRWEB) September 28, 2011
KneeBouncers.com has announced that beginning September 27th, one of their most popular apps will be free to download, as part of their "Bounce, Play and Learn" campaign. KneeBouncers will be posting tips about learning through play on their blog, KneeBlogger.com, their Facebook page (http://www.facebook.com/kneebouncers), and through Twitter (@KneeBouncers).
"We believe in play. We love play. So, we are inviting everyone everywhere to play with us," says Punch Robinson, co-creator of KneeBouncers.
KneeBouncers Big Little Games Vol 1 includes five games straight from the popular KneeBouncers.com website. The app is designed with babies and toddlers in mind and hits the mark with the big colorful graphics making the games easy to navigate, with just a tap of a bubble the game begins.
"We love this app and we want to share it with the world. You get five fun educational and entertaining games, so you're really getting five apps," added co-creator Kurt Dommermuth. "The games are some of the very favorites directly from KneeBouncers.com, so they have been test driven by millions of babies and toddlers worldwide!"
KneeBouncers Big Little Games Vol 1 includes:

choo-choo - A train, a car, a tractor and lots of interactive fun
big top - KneeBouncers characters perform in a three ring circus
pop-a-lot - Little ones squeal with delight with what pops up next
it's colorific - Bright balloons and amusing characters help make this intro to colors a whole lotta fun
the alphabet game - Letter-learning fun and entertaining too
Why babies and toddlers love KneeBouncers Big Little Games Vol 1:

Trains, cars, tractors, bubbles, balloons, clowns, flowers, volcanos, octopus, acrobats, hippo, walrus, and much, much more
Colorful attractive graphics with funny animations
Very easy to use
Voice-over speaks aloud every alphabet letter and word
Why parents love KneeBouncers Big Little Games Vol 1:

It's free
Fun introduction to colors, alphabet letters and first words
Kids learn to speak the alphabet letters and words after hearing the voice-over
Picture recognition from their spoken and written names
Kid-friendly navigation allows for individual play spend hours learning and having fun at the same time
Parents can sit with their child and enjoy the app together and thus increase parent-child bonding.
The KneeBouncers Big Little Games Vol 1 is now available for free on the iPhone, iPad iPod Touch, and Android markets. For more information about the free app offer, please visit http://www.facebook.com/kneebouncers
Founded in 2002 by two dads for their own kids, KneeBouncers.com, has become one of the world's best website for babies and toddlers. Creating and promoting playful learning, KneeBouncers' games are easy to play games and encourage the youngest family members. Currently, KneeBouncers.com hosts over 20 games, volume sets apps, ebooks with more content on schedule to launch later this year.
# # #