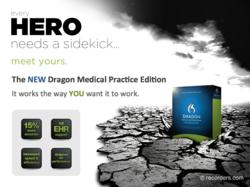 Recorders.com is thrilled to offer Dragon Medical Practice Edition to our longstanding as well as new clients
Austin, TX (PRWEB) September 27, 2011
After months of intense anticipation and preparation, Recorders.com is unveiling Dragon® Medical Practice Edition, a state-of-the-art speech recognition product manufactured by Nuance, which may be the most revolutionary and industry-changing software to hit the market in many years. Recorders.com is an Elite Dragon Medical Partner, and the leading supplier of digital dictation equipment in the US.
If you are a healthcare professional and, like Recorders.com, you have followed the progression of this software since it first came on the scene in 1999, you will not be disappointed with Dragon Medical Practice Edition. As Recorders.com President Krish Michaels points out, "users won't be asking 'what can this software do?' but what can't it do?"
"This Dragon software is so advanced, not only does it recognize you as a healthcare provider, but it can drill down to your specialty, adapt to your dictation style, recognize your applications and even help ensure your connected devices are working properly for optimal performance," says Ms. Michaels. Recorders.com expertise in this arena and commitment to client service are illustrated by its successful deployment of thousands of licenses in the healthcare industry, which spans over 200 application environments including Microsoft Word, to countless document management and EMR systems.
So what does Dragon Medical Practice Edition (Item#: A709A-X00-11.0) deliver that is certain to have healthcare professionals who use speech recognition technology so excited? To start with, its speech recognition engine is 15% more accurate than Dragon Medical 10, and it has an overall accuracy of 99%. But the Dragon Medical Practice Edition enhancements go far beyond accurate dictation. The commitment to creating "an experience" through user feedback can be seen in the enhancements to usability. This 11th official release of Dragon Medical has a definite 'wow' factor, and initial testers have described the software as "engaging" and
"intuitive."
Like no other software of its kind, Dragon Medical Practice Edition includes vocabularies covering nearly 60 medical specialties and subspecialties, is easier to navigate, and has a significantly improved 'correction' function. The software was designed to be easily paired with more hardware and third-party applications, and includes new 'smart' configuration tools that can detect hardware that easily integrates with it, such as using the Dragon Medical Practice Edition with PowerMic II (Item#: A709A-X97-11.0).
If a microphone is connected and offers poor audio input, the software automatically detects the issue to ensure the user has the best possible audio input. The application features a sidebar for enhanced navigation in all programs, opening up the ability to work easily in the programs a user chooses.
"When I dictate, even if I mumble it gets it right. It's almost like it knows what I am about to say before I do," says Michaels. "I'm just waiting for the day when I ask Dragon, 'what do I want for dinner,' and it responds with the right answer."
The introduction of Dragon Medical Practice Edition is considered by Michaels and her team at Recorders.com, as well as other industry leaders, to be a significant advancement for the business of healthcare information management. It is anticipated that it will accelerate the adoption of EHR (electronic health records), improve clinician satisfaction and result in higher quality patient notes.
Ms. Michaels adds that she and her team recognized the significant potential of Dragon's concept when it originated as the first "continuous-speech dictation software," and they have seen the technology evolve over their years of experience in this industry. The concept of allowing medical professionals to speak naturally just as they would in a conversation and to see their words immediately documented on the screen was a major technological breakthrough. Dragon Medical Practice Edition takes it so many steps further.
"Recorders.com is thrilled to offer Dragon Medical Practice Edition to our longstanding as well as new clients," says Ms. Michaels. "This software has outstanding capabilities and is a pleasure to use. We look forward to supporting all of our clients and making sure that the software they get from us provides the most productive user experience possible."
For a complete list of the features unique to Dragon Medical Practice Edition and Dragon Medical Practice Edition Upgrade (Item#: A789A-RC8-11.0), and to learn more about other Recorders.com products and services, visit http://www.recorders.com.
# # #