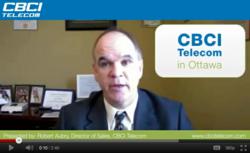 With Telepresence, seeing is believing!
Ottawa, Ontario (PRWEB) September 27, 2011
CBCI Telecom, Canada's Leader in Visual Communication is proud to announce there will be a live connection of Cisco® TelePresence™ between the CBCI Telecom and Cisco Canada booths at the upcoming GTEC 2011 conference October 18th and 19th at the Ottawa Convention Center.
CBCI Telecom will be showcasing, in GTEC Booth #101 and Cisco in booth # 907, the multiple capabilities of Cisco TelePresence Systems in combination with other great visual collaboration systems.
This will be an eye-opening opportunity to trial:

Cisco TelePresence System EX90 and EX60,
Cisco TelePresence Profile Series,
Cisco TelePresence MOVI™ and
Cisco TelePresence C20 Quick Set System integrated with a SMART Board.
Take advantage of the opportunity to experience all of these systems in one location. Cisco and CBCI Telecom are bringing it together at GTEC this year under the theme Connected Government - Working Together to Better Serve Canadians.
With TelePresence, seeing is believing. Presentations will be ongoing throughout the day between 9:30 am and 4:30 pm on the 18th and 19th of October at both the Cisco booth #907 and CBCI Telecom booth #101.
CBCI Telecom will also showcase the features and applications of the interactive whiteboard from SMART Technologies combined with Cisco TelePresence and how it can improve an organization's collaboration interactions during daily huddles. Demonstrations will be ongoing during the two days of the show.
For more information please visit http://www.CBCITelecom.com. Remember, this event is free for public sector personnel! Register Today or contact a CBCI Telecom representative for your complimentary pass for the private sector.
About CBCI Telecom
CBCI Telecom is Canada's Leader in Visual Communications; our mandate is to improve business human connection through visual communications. CBCI Telecom is at the forefront of Canada's adoption of telepresence and videoconference solutions in making visual communications simple and effective for business. We have been serving the corporate, health, education and government communities of Canada for more than 20 years. At CBCI, we don't believe in a one-size fits all package, we believe in a visual communication solution adapted to your needs. We support our clients in making their visual communications easy through leading-edge professional services and Video Managed Services.
CBCI Telecom is recognized as a Cisco TelePresence Master Level ATP partner and has been named as Cisco Canadian Business Video Partner of the year in 2010 as well as nominated as TANDBERG Partner of the year for 8 consecutive years since 2002. In 2011, it ranked in the Top Information and Communication Technology Companies in Canada of the Branham300 list as well as on the North American VAR500 list. Know you can expect more with CBCI Telecom as we provide the most knowledgeable and talented visual communication resources in Canada. More information can be obtained at http://www.cbcitelecom.com.
Link to Video Presentation of CBCI Telecom Ottawa: http://youtu.be/nU62p7BdbeM
About CBCI Telecom Participating Partners
Cisco http://www.cisco.com/web/CA/about/index.html
SMART Technologies http://smarttech.com/us/About+SMART/About+SMART
Cisco, the Cisco logo and Cisco TelePresence are trademarks or registered trademarks of Cisco and/or its affiliates in the U.S. and other countries. A listing of Cisco's trademarks can be found at http://www.cisco.com/go/trademarks.
###