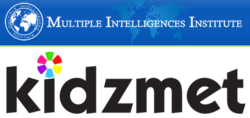 This new course fits perfectly with the MI Institute's mission to develop and offer products and services inspired and informed by an understanding of MI theory as conceived by Gardner.
Santa Barbara, CA (PRWEB) September 27, 2011
At Home with Multiple Intelligences is a brand new introductory course geared to family and caregivers and covers how you can put Howard Gardner's Multiple Intelligence theory into practice in your family life. The course is not bogged down with theory, but does provide enough of the theoretical and practical for parents and caregivers to both understand and use MI with kids in a way that will be both fun and productive.
At the conclusion of the course, At Home with MI course participants will appreciate and understand:

How MI Theory describes intelligence and how it is different from the common view of intelligence.
What this different theory of intelligence suggests for our understanding of and interactions with important children in our lives.
How MI theory can be used as a lens to know children, their strengths, interests, and  preferences, and how that information can be used to the good for the child and family.
How MI theory can be used in many ways, small and big, for and with children; to support their own development, their learning and school experiences,  and family life.
How to use the theory toward family and caregiving goals.
The course will use an MI-based approach, which is learner-centered and active. It emphasizes learning by doing, problem-solving, and making practical connections to your own situation. The online course costs $99 for a 12-week session and begins November 16.
MI Institute Managing Partner and long-time HGSE Project Zero researcher and author Julie Viens says, "We are excited to extend the MI Institute's breadth and depth of expertise in MI theory and practice into the home environment. This new course fits perfectly with the MI Institute's mission to develop and offer products and services inspired and informed by an understanding of MI theory as conceived by Gardner and applied by Gardner and his colleagues. To that end, the MI Institute is very fortunate to receive Dr. Gardner's guidance and feedback a regular basis."
Course contributor Jen Lilienstein and Founder of Kidzmet.com says, "The information provided in the course will empower participating parents to facilitate at-home learning experiences that help stretch their kids' definitions of smart. We've worked hard to put the coursework into bite-sized chunks that can be worked into parents' busy schedules."
About Multiple Intelligences Institute
The Multiple Intelligences (MI) Institute is committed to the understanding and application of Multiple Intelligences Theory in educational settings, from pre-school through adult education. Through online course and support channels, face to face professional development, consulting services, and curriculum and resource development offerings, the MI Institute supports programs, educators and now parents seeking to tap into this powerful theory and pedagogical framework to create and provide learner-centered, goal-driven applications of MI Theory in any learning context. Please visit http://www.miinstitute.info for more information.
About Kidzmet
Launched in Spring of 2011, Kidzmet.com analyzes personality, multiple intelligence preferences and predominant cognitive style to help teachers connect better with their students. Kidzmet's student screening tools can be used by parents, teachers, tutors and schools to quickly understand student learning preferences and facilitate better teacher/student connections so that learning can start from minute 1, leading to more engaged and motivated learners.
Ms. Lilienstein completed her undergraduate senior thesis on the effect of the implementation of Howard Gardner's multiple intelligence theory (or lack thereof) in varying types of schools (public, parochial, Waldorf and Montessori) in 1994. She studied the corresponding effect on absenteeism, self-esteem/self-worth, love of learning and students' openness to future career directions. Ms. Lilienstein currently serves on the Editorial Board of the National Afterschool Association, the Publications and Platform Committees of the NAA, the Quality Committee of the CA Afterschool Network, and advocates for Afterschool for All with the Afterschool Alliance. She is also a member of BOOST and ASCD.
###