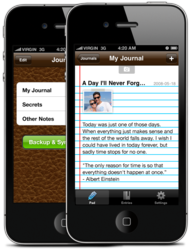 Toronto, Canada (PRWEB) September 27, 2011
In this age of Facebook, sharing everything has become the norm. But the creators behind Penzu.com feel as though privacy is an important component of our digital lives. And today Penzu is extending that privacy to iPhone, iPad, and Android devices.
Penzu.com is a personal journal and diary in the cloud. A place where users can write freely without the fear that someone might read their thoughts. Whether it's a girl that wants to hide her diary from her older brother, a troubled teen that wants an outlet for expression, or a CEO that wants to keep track of his progress, writing privately is an important activity that we've all done before.
"Writing your thoughts down is something we all do," said Alexander Mimran, Co-Founder and President, "whether you know it or not. And while we'd normally do this with pen and paper, mobile devices like the iPhone are starting to change that."
Penzu is free and available for use on a computer or mobile device. Penzu also has some unique features that make the writing experience much more enjoyable. Things like customized backgrounds and paper styles, fonts that look like hand-writing, military-grade encryption locking of private entries, daily inspiring quotes and questions, journaling via email, custom email reminders so users never forget to write, blasts from the past (they surprise users with old entries in their inbox) and the list goes on. They truly take the journaling experience to the next level, especially with their premium product, Penzu Pro.
It's time to get thoughts out of our head and into the cloud!
Link to Media Kit: http://penzu.com/Media-Kit.zip
###