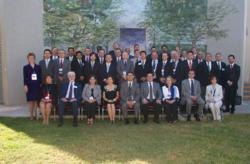 Best practices in education do not recognized and are not limited by countries' borders
Mexicali, Mexico. (PRWEB) September 27, 2011
CETYS University's Mexicali Campus hosted an international chancellor's conference on "Future Trends in Global Higher Education." The conference was organized by CETYS University as part of its 50th anniversary celebration and had speakers representing over a thousand higher education institutions. Dozens of panelists visited from around the world, including: the United States, Canada, Mexico, Spain, Peru, Austria, Czech Republic, Slovakia, Finland, UAE, China, India, France, Korea, and Australia, said CETYS University President Dr. Fernando León-García.
The first panel on "The Impact of Changing Demographics on the Future of Universities" included San Diego State Vice President Dr. Nancy Marlin; Chicago School of Professional Psychology Dean Dr. Marty Harris, Baja California University President Dr. Felipe Cuamea, Nanjing University Vice President Dr. Shao Jin and University of Arizona Director of Undergraduate Studies Dr. Celestino Fernandez/ The experts agreed that, as a group, universities lack the infrastructure to meet the size and scope of current and future demand for Higher Education. Another challenge is meeting the needs of a diverse population.
The second panel was dedicated to highlighting the different approaches on higher education accreditation around the world. Western Association of Schools and Colleges (WASC) President Dr. Ralph Wolff, University Latina Director Dr. Angel Eliseo Cano, Higher Education Accreditation Council General Director Mr. Luis Eduardo Zedillo Ponce de León, University of Finance and Administration Deputy CEO Dr. Petr Budinsky, and former CETYS President Mr. Enrique Carlos Blancas de la Cruz agreed that innovative education programs require flexible accreditation schemes and that these should be developed through collaboration between multinational accreditation bodies and the sharing of best practices with an increased participation from society and less government regulation.
The third panel involving "The Impact of Technology on the Future of Universities", was conducted by Computer Scientist and Technology Innovator, Kenneth Andam; Vice President of Sungard Higher Education, Dr. William Graves, , Central Ostrobothnia University of Applied Sciences, Dr Marko Forsell, University of Southern Queensland Springfield Director Mr. Doug Fraser, City University of Seattle School of Management Dean Dr. Kurt Kirstein. This panel focused on the wide array of technologic tools and software currently available and the ambivalent thinking of the mainstream educational institutions that embrace new methods, such as online education, while bemoaning the reduction in traditional Student-Teacher interaction. The panelists agreed that new technology should be embraced when it can improve on the student's educational experience.
The fourth panel of the conference focused on "The Impact of Globalization on the Future of Universities" with the participation of: Hispanic Association of Colleges and Universities President and CEO Dr. Antonio Flores, International Association of University Presidents Secretary General Dr. Alvaro Romo de la Rosa, Consortium for North American Higher Education Collaboration President Dr. David Atkinson, former CETYS University President Mr. J. Alfonso Marín Jiménez, and Sungkyunkwan University Director of International Affairs Mr. Terrance Henderson. The participants said Globalization should be tempered by an understanding of each country's and region's cultural needs with care to preserve certain national differences and individual community's needs. Additionally, the panelists discussed the differing models of not-for-profit and profit making higher education institutions and agreed that economic gains from a university's operations should be reinvested to further quality education.
The fifth panel "Reaching sustainability, the future of Universities" was conducted by former President of the University of British Columbia Dr. David Strangway, INSEAD Academic Dr. Lourdes Casanova, United Nations Director for Partnerships and Public Engagement Dr. Ramu Damodaran, North Maharashtra University Vice Chancellor Dr. Khanderad Baliram Patil, former ACE Fellow Program Director Marlene Ross, and Consortium for North American Higher Education Collaboration Director Dr. Francisco Marmolejo.
At the end of the event, CETYS University President Dr. Fernando León García presented several concluding remarks. Dr. Leon congratulated the participants on the diversity and richness of their contributions to understanding the Future Trends in Global Higher Education and stated that "certain common elements emerge during the event, such as: Education is essential for a country's continued development; Best practices in education do not recognized and are not limited by countries' borders; quality should be every institutions first priority, followed by innovation.
The main goals of the Conference include highlighting the work being done in the institutions invited, through different organizations and institutions they represent, to the better understanding of how it can impact Baja California and Mexico.
###