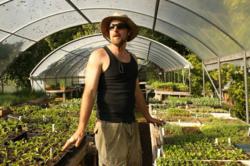 We're pleased to help another gifted young apprentice attend this premier sustainable and organic training program. We continue to be impressed by both the quality of the program and students.
Norway, IA (PRWEB) September 28, 2011
Israel Dawson is one of three dozen aspiring organic farmers planting, cultivating and harvesting organic botanicals on a 25-acre farm at the University of California in Santa Cruz. What distinguishes Mr. Dawson from his peers is that he's able to participate in this apprenticeship thanks to the Simply Organic Scholarship Award for the Apprenticeship in Ecological Horticulture at UCSC.
As the second winner of this endowed scholarship, Dawson is already planning how he'll incorporate his apprenticeship education into his dream of making organic foods accessible and affordable to low-income populations. In his opinion, locating an organic farm and/or farmers' market near low-income neighborhoods encourages positive neighborhood interactions and provides healthy food alternatives to processed fast foods contributing to the health crisis of poor nutrition.
Mr. Dawson has spent the past two years developing and recording his own experiences with the establishment of a community garden next to his apartment complex near downtown Santa Cruz. The hits and misses of designing, planting, cultivating and harvesting over a dozen vegetables laid the groundwork for his plans to create a local urban CSA (Community Supported Agriculture) model that can be maintained by a neighborhood community. Dawson says, "I was successful in my gardening experience because of the helpful individuals who contributed their expertise and time, which after all, is a basic tenet of the cooperative approach."
Dawson also believes that when a neighborhood works cooperatively in a CSA, a greater sense of community emerges as it connects people with the food they're eating. "To eat healthy, locally grown, organic food that you and/or your neighbors produce, is an ideal way to eat consciously and affordably," implores Dawson. This is exactly the type of framework he believes can be successful for low-income neighborhoods in Southern California.
Another positive aspect of Dawson's local, urban, CSA model includes a bicycle service that keeps the delivery system sustainable and carbon-free from harvest to final consumption point. Already a partner in Pedalers Express, a local Santa Cruz bike courier co-op, Dawson has seen first-hand the hard work and communication skills necessary to make a fledgling business stay afloat. "One of the best things about a co-op is that we all must work together as equals, while recognizing that individuals bring unique skills to the process, which makes it successful in the end," he adds.
Since the establishment of this scholarship award in perpetuity back in December of 2009, Simply Organic and Frontier Natural Products Co-op™ have made a combined contribution of $130,000 to the UCSC Center for Agroecology and Sustainable Food Systems.
"We're happy to help another gifted young apprentice attend this premier sustainable and organic training program," says Kathy Larson, Vice President of Sustainability at Frontier. "We continue to be impressed with both the quality of the program and the quality of the young people enrolled in the program. Our scholarship offers an opportunity for future leaders in sustainable agriculture to participate in advanced organic training and contribute to the organic community."
The Simply Organic One Percent Fund(SO1%), which is a contribution of 1 percent of sales on all Simply Organic products, supports organizations and events that further education, training and growth in the organic industry. "Every time you buy a Simply Organic spice, seasoning or mix, you make a small contribution that, when combined with many others, provides significant support to organizations and projects that research, develop, teach and promote organic agriculture," explains Kory Kazimour, Simply Organic Senior Brand Manager.
Simply Organic®
Simply Organic®, an all-organic brand from Frontier Natural Products Co-op™, offers an extensive and growing selection of certified organic spices, seasonings, baking flavors and mixes while supporting organic agriculture around the globe. By providing the best available organic seasonings and donating one percent of sales to organic agriculture and education, Simply Organic genuinely offers "Simply Healthy Living. Simply Great Taste." Find out more about Simply Organic at http://www.simplyorganic.com.
###