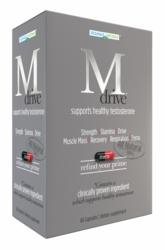 Mdrive is the most scientifically-advanced fuel ever formulated for a man's body.
Phoenix, AZ (PRWEB) September 27, 2011
DreamBrands, internationally recognized for identifying healthy solutions that empower men and women to live fuller lives, presents M-Drive™ -- a natural supplement which includes Fenugreek Seed Extract, an ingredient that clinical tests revealed promoted healthy free testosterone levels in an active group of subjects by 98%. Men who take Mdrive on a daily basis report increased strength, stamina, sex drive, muscle mass, recovery, respiration and focus – making it a men's formula guys actually recommend to other guys to naturally boost testosterone levels.
MDRIVE: THE MOST SCIENTIFICALLY-ADVANCED FUEL EVER FORMULATED FOR A MAN'S BODY
Mdrive - A synergistic blend of powerful bio-active extracts from plants, roots, herbs and mushrooms is scientifically formulated to support the adrenal glands, raise free testosterone levels, and enrich nutritional blood supply to the body's organs and extremities – without costly hormones, dangerous steroids or addictive caffeine.
Mdrive creator, Gary Kehoe – DreamBrands CEO and a product development expert acclaimed for creating many well-known consumer health products currently available in major drugstores – said this: "Men over 40 won't always talk to their physicians about personal issues such as Low-T. Even when ready to try to improve their overall well being and perhaps boost testosterone levels, they're hesitant about using prescription drugs. Though Mdrive is not a pharmaceutical treatment for low testosterone, we believe men will appreciate its natural formula."
REAL ENERGY AT THE CELLULAR LEVEL - NATURALLY
Mdrive is formulated with Fenugreek Seed Extract – which supports healthy testosterone levels without the need for costly hormone therapy; the Cordyceps Mushroom – which in human cardiovascular studies enhanced nutritional blood supply to the organs and extremities by supporting the ATP molecule which releases real energy; and the Maitake, Maca, American Ginseng and Damiana Extracts.
Mdrive is a daily supplement designed specifically for men who want to increase strength, stamina and overall vitality. Mdrive is available at GNC, The Vitamin Shoppe, and online at Mdrive4Men.com.
ABOUT DREAMBRANDS
DreamBrands LLC, headquartered in Phoenix, Arizona, formulates unique and highly-effective natural personal care products. The Company was founded in 2004 to meet the under-served and growing needs of the vast "boomer" generation seeking to "defy maturity." By creating products that incorporate leading-edge science and all-natural ingredients, DreamBrands provides branded consumer products that empower both men and women to achieve and maintain optimal health.
###