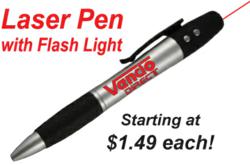 "We are very excited about these new laser pens. I am sure that we'll sell out quite fast this year. We don't get the opportunity to sell too many items like this one at such a cheap price and when we do, they fly off the shelves." M. Klein Spokesman
Hollywood, FL (PRWEB) September 28, 2011
Pen Company, VendoDirect.com, introduces the "Laser Pen" a Three-In-One low cost twist action retractable laser pointer, flashlight and pen combination item for the 2011 Holiday Season.
The Laser Pen is made of composite plastics and features a satin finish metallic silver barrel that is smartly accented with a rubberized black soft comfort gripper and matching black cap section. The cap of the pen is adorned with two silver tone push buttons; one button to activate the flash light, the other button to activate the laser beam. The cap section of the pen can be removed to provide access for replacement of the batteries.
Vendo Direct's new Laser Pen (starting @ $1.49 each) is priced well below the $3 to $5 average starting price of the common Laser Pointer. This promotional pens built in flashlight is another value added utilitarian enhancement sure to make it stand out from its cohort. This personalized pen is best imprinted with 3 lines of custom ad copy.
Company Spokesman Michael Kelin said, "We are very excited about these new laser pens. I am sure that we'll sell out quite fast this year. We don't get the opportunity to sell too many items like this one at such a cheap price and when we do, they fly off the shelves."
Vendo Direct, Inc. has been printing customized pens and promotional items in the USA since 1958. They print over 1000 items in house and offer over 200 USA made ball point pens and other assorted custom printed advertising specialty items. For more information about this item, or Vendo Direct, you may call them toll free: 1-866-381-PENS Monday thru Friday 9 am to 5 pm EST.
###