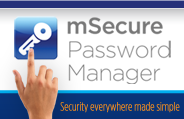 mSecure - Password Manager is a highly reliable app for recording your most important information and keeping it private.
Portland, OR (PRWEB) September 28, 2011
mSecure Password Manager for iOS has been recommended by Appmodo as "extremely user friendly, whether for the iPhone, iPad, or Mac." Appmodo is a leading mobile applications blog that has extensive array of reviews and news reports on mobile apps.
mSecure was featured in an review article titled "mSecure – Password Manager Review for iPhone, iPod Touch, iPad, and Mac" where mSecure was reviewed and recommended. The article took note of mSecure's reliability and industry-proven encryption. "mSecure - Password Manager is a highly reliable app for recording your most important information and keeping it private," said Gwen Phua of Appmodo. The review also outlined how several mSecure features keeps data safe and secure from data loss and hackers respectively.
mSecure continues to be held out as an industry-standard in password and personal information protection for mobile and computing devices. mSecure uses ultra-secure 256-bit blowfish encryption to protect personal information such as account numbers, usernames, passwords and more. mSecure provides seventeen popular personal information templates with the ability to create custom templates and groups to facilitate easy entry of user information. mSecure supports a Security Everywhere sync architecture to keep data synchronized across iOS, Android, MacOS and Windows devices.
mSecure for Mac OS is available in the Mac App Store for $14.99 and mSevenSoftware.com, where the Windows version is also available, both for $19.99 each. A $5 off coupon for mSecure MacOS/Windows is available to mSeven Software Facebook fans (not applicable on Mac App store). Details on this special offer can be found on the company's Facebook page at http://facebook.com/mSevenSoftware.
About mSeven Software
Based in Portland, Oregon, mSeven Software has developed and supports mSecure and several other applications for the iOS, Android, Mac OS and Windows platforms. As a leader in the productivity category, mSeven Software operates on the principle that useful software is "made simple for everyday users."
For more information:
Contact: David Pfeiffer
Phone: 262-968-1940
Email: dave(at)msevensoftware(dot)com
Web: http://msevensoftware.com
Video: http://www.youtube.com/v/mmVQb9NIxHE?rel=0
Google, Google Android, Apple, iPhone, iPad, iPod and Windows are either registered trademarks or trademarks of Google, Apple and Microsoft Corp. respectively in the United States and/or other countries. mSecure, mGifts, mSevenSoftware, Security Everywhere are trademarks of mSeven Software.
###