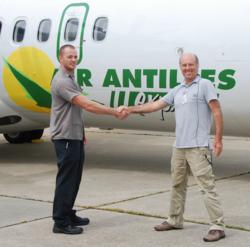 AvCraft redelivered this aircraft from C-Check five days ahead of schedule.
Myrtle Beach, South Carolina (PRWEB) September 27, 2011
ATR, Dash 8 and Dornier MRO specialist AvCraft Technical Services today announced a long term heavy maintenance agreement with Caribbean carrier CAIRE Air Antilles Express. This new agreement follows the early redelivery of a second ATR 42 from heavy check at AvCraft's Myrtle Beach, South Carolina facility.
"AvCraft redelivered this aircraft from C-Check five days ahead of schedule," said Mr. Jean-Phillipe Coudrat, the most senior technical executive at Air Antilles Express. "We had a flawless flight test and then an uneventful 5½-hour nonstop ferry flight. The aircraft is back in service now."
Air Antilles Express operates three ATR 42 on high frequency regional routes linking five Caribbean islands from a base in Guadeloupe, French West Indies. The airline chooses its maintenance vendors based on the quality of their work, their turnaround times and their competitive pricing.
"We're satisfied that AvCraft can deliver the performance we expect from our vendors," added Jean-Phillipe. "A long term agreement makes sense for us."
Air Antilles Express was AvCraft's first ATR customer, contracting for an initial heavy check in February 2010. Since then AvCraft's ATR customer base has grown to seven airlines and leasing companies in North America, the Caribbean and Europe.
"I'm proud of the work that our team is doing," said Mr. Mike Hill, President of AvCraft. "And I'm especially proud that we've won the respect of a highly capable operator like Air Antilles Express. We look forward to a long and productive relationship."
About AvCraft Technical Services
AvCraft provides airframe heavy maintenance, line maintenance, paint and modification services on ATR 42 and 72, Dash 8, Dornier 328 and other commercial aircraft for airlines, leasing companies and corporate operators from the US, Canada, the Caribbean, Latin America and Europe.
With a highly motivated, well-trained work force that includes 120 maintenance technicians and support staff, the company operates from a 130,000 sq ft facility at Myrtle Beach International Airport. This facility includes hangars, back shops and a double bay paint shop adjacent to a 400,000 sq ft aircraft ramp area.
AvCraft has partnered with affiliate company Indaer to provide engineering, maintenance planning, technical services and field support to operators and leasing companies around the globe. In 2010 AvCraft and Indaer supported 46 customers from 14 countries in North and South America, Europe and Asia.
More information is available at http://www.avcraft.com.
###