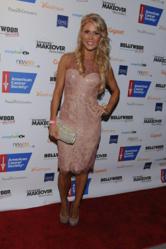 Los Angeles, CA (PRWEB) September 27, 2011
The 9th Season Premiere Event For ABC's "Extreme Makeover: Home Edition"! Sparkled in Downtown Cathedral with Stars
The Event presented by Hollywood Branded Inc. Highlighted the Extreme Efforts by Cast and Crew and was Celebrated by Popular Brands in a Joint Benefit for the American Cancer Society
The cast, crew and staff who create, design, build and make the dreams come true for so many deserving families, The "Extreme Makeover: Home Edition" family was honored at their 9th season premiere party Sunday night by Hollywood elite and numerous high profile corporate brands and companies at an exclusive event at the historic Vibiana Cathedral in Downtown Los Angeles.
The private industry event boasted more than 600 attendees and featured a silent auction that benefitted the American Cancer Society. A myriad of celebrities, pro athletes and recording artists across all spectrums attended from "True Blood's" Nondumiso Tembe to real house wife Gretchen Rossi.
There was a pre-screening of the two-hour season premiere at the party that featured
First Lady Michelle Obama and Rihanna coupled with on-site interactive games, pampering stations, live music, dance floors with DJs and several promotional giveaways including grand prize trips to Aruba.
As the iconic "Extreme Makeover: Home Edition" returned for its ninth season, deserving families in need of a newly rebuilt and decorated home are once again treated to the door knock that changes lives. Throughout the series, children have been an integral part of so many of the episodes, and this season children are the focus. Whether it's bringing to light the challenges of dwarfism faced by youngsters, the bond between a father and his paralyzed son, or the heroic eight-year-old who saved her younger sister from an oncoming truck -- but incurred life-threatening injuries of her own -- this season celebrates the power of children to transform their own lives and those of their communities. And "Extreme Makeover: Home Edition" will continue to unite the families selected with their favorite entertainers, athletes, politicians and role models, this season including First Lady Michelle Obama, Glenn Close, Rihanna and Meredith Vieira, among others.
Several global brands and companies graciously supported the event in a variety of creative ways including:
Boston Market created an on-site replica of their restaurant cafes and served scrumptious food that guests enjoyed through the evening.
Snapfish by HP is the No. 1 online personal publishing service in the world, Guests had entertaining photos taken in a photo booth, and then participated in using HP print technology for on the spot mobile and wireless printing. Snapfish also showcased its new home décor offerings including Fine Art Prints and Canvases in a gallery. Party-goers enjoyed taking photos with fun props printed using HP technology on the spot. Snapfish also showcased its new home décor offerings including Fine Art Prints and Canvases in a custom gallery,
For more, visit http://www.snapfish.com .
New Wall Art by HP: HP Wall Art and New Era brought the Extreme Makeover: Home Edition build experience to life for special guests. They created a gallery of larger-than-life images that featured the family of the the season's inaugural build and the special people who made it possible. Starting this week, designers can visit http://www.newerawalls.com from the convenience of their office or client site to choose from thousands of fine art images and stock photos, then customize and order New Era Walls by HP. http://www.newerahd.com
Passion Growers – Imported from the heart of Colombia, Passion Growers is a family-oriented company dedicated to growing and providing the most beautiful and highest-quality roses. Passion Growers' 200+ varieties of roses can be found in more than 5,000 retail and grocery stores around the country. Passion Growers, the preferred rose of Extreme Makeover: Home Edition, were displayed throughout the venue and each guest received a single stem to take home. http://www.passiongrowers.com
Gigaset Communications – Gigaset Communications is the ultimate in German engineering technology, Gigaset is one of the world's largest manufacturers of sleek cordless telephones and a pioneer in the development of Interference free DECT technology proudly made in Germany. Sharing the same Class distinctions as Mercedes, guests had the opportunity to win a Gigaset by guessing how many Gigasets were hidden in a Mercedes S500. http://www.gigaset.com
VelaShape – VelaShape is the only FDA cleared device that effectively and safely contours, shapes and slims the body by reducing cellulite and firming problem areas in as little as 4 treatments. At the event, Dr. Vince Afsahi of South Coast Dermatology Institute met with guests and gave live VelaShape demonstrations. http://www.velashape.com
Aruba Tourism, and Tamarijn Aruba All Inclusive and Aruba Aloe -
Aruba, the One happy island, was just recently ranked number two by TripAdvisor travelers in the category of top 25 destinations in the Caribbean and Mexico, It is easily accessible from 14 U.S. gateway cities. Surrounded by turquoise Caribbean waters, Aruba's beaches range from wide shaded expanses and quiet retreats to busy sunbathing and water sports hot spots. Guests were given the chance to win a trip for two to Tamarijn Aruba All Inclusive, located right on the water with all oceanfront rooms, 9 dining options, 7 bars, water sports, nightly entertainment and more, and each received Aruba Aloe lotion made with the World's Finest Aloe.
Onliners from Mercia and Veev--"merci® – Finest Assortment of European Chocolate were savored throughout the evening by guests and was considered to be the sweetest way to say thank you.
Merci Finest Assortment of European Chocolates offers a delicious selection of rich European chocolates made from the finest ingredients available, providing indulgence and variety. Merci created a Chocolate Tasting Lounge for guests to enjoy as a gift of thanks to the production.
O.N.E Coconut Water, an all-natural beverage company with a deep commitment to the Earth and its people, actively educates people worldwide about issues of hydration and the prevention of childhood obesity. Bars throughout the event provided customized beverages named O.N.E. cocktails made with a variety of liquors. http://www.onedrinks.com
And VeeV, the "Eco-friendly cocktail and the World's First Açaí Spirit" made the event complete. VeeV, the World's First Açaí Spirit, and simply a "better way to drink" strives to raise awareness, resources and support for the Brazilian Rainforest while running a carbon-neutral, eco-friendly company. Guests sampled custom event named cocktails made from the Açaí Spirit. http://www.veevlife.com
For still images, video and more information, contact David Sands at 323-271-4942 or via email: david(at)hollywoodbranded(dot)com ; http://www.hollywoodbranded.com
###