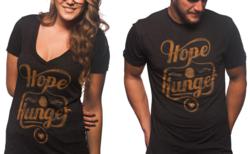 The people of East Africa NEED our help. They WILL die without it. For those looking for practical ways to help, here is your answer.
Corona, CA (PRWEB) September 27, 2011
Sevenly.org has had outrageous success since its launch in mid June 2011. The social good company has already given over $65,000 to charities across the world. Convoy of Hope, one of America's most prestigious charities, known for their tremendous work with state-side disaster relief and child hunger, has now teamed up with Sevenly.org to save lives in East Africa during the week of September 26th.
With East Africa facing its worst drought in 60 years, affecting more than 11 million people, the United Nations has declared a famine in the region for the first time in a generation.
Sevenly, which mostly partners with international charities like International Justice Mission, Charity Water, and Compassion Intenational, has been urged by their fast growing community to partner with a cause that has engaged with the horn of Africa famine. The two organizations have carefully planned a nation wide communication strategy that they believe will give the people of the world a chance to provide life-saving supplies and food to a people in desperate need.
Over the one week campaign, they will work rigorously to leverage each of their online resources to not only sell t-shirts, but to share the campaign across major social networks like Facebook, Twitter, Tumblr, and YouTube.
Sevenly CEO, Dale Partridge states, "We spend most of our time here figuring out ways to help enable people to share a campaign online. On average we can drive over 10,000 shares in one week but we are working very hard to reach the 100K mark."
Dale continues with, "For those tired of clicking the donate button or those interested in representing a worthy cause on a fashionable shirt worth wearing, we need your help." The two hope to sell over 100 of these limited edition Convoy of Hope tees each day of the campaign this week. If all predictions are correct, and with the online support from the thousands behind this new, social media / social good movement, East Africa's forgotten people might have a better shot at surviving.
Visit Sevenly.org this week to join the fight for hunger.
Sevenly is a co-profit company founded in June 2011 to raise capital and awareness for the world's greatest causes. Each week Sevenly partners with one qualified nonprofit to sell a shirt specifically designed for that week's campaign, with seven dollars from each shirt sale going to the charity. Run by CEO Dale Partridge, the company's goal is to provide support to charities through increased awareness, funding and following. To learn more about Sevenly visit http://www.Sevenly.org.
###