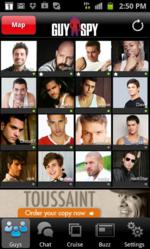 GuySpy is gay mobile dating at its best! Compared to competitors like Manhunt and Grindr, GuySpy has way more features to help you find guys YOUR way
Vancouver, BC (PRWEB) September 27, 2011
Stark Mobile Media is pleased to announce that GuySpy 2.1 for Android is now available, featuring video messaging, and Spanish, Portuguese and Chinese language support.
GuySpy 2.1 for Android lets men exchange video clips, photos, and voice messages in one-on-one chat. As well, GuySpy 2.1 features Buzz, which integrates GuySpy's popular gay blog directly into the app. Another new feature, Cruise, takes users through the latest uploaded photos in GuySpy. GuySpy 2.1 for iPhone, iPad, and iPod Touch was released earlier this month.
Jeff Prete, General Manager of Stark Mobile Media, states, "I'm very pleased to be able to offer what I believe is the most robust, full-featured gay dating app on the market. Our large customer base has been very vocal about what features they want to see, and video messaging has always been the top feature requested. We are pleased to be able to deliver it, first for iPhone, and now for Android."
"GuySpy is gay mobile dating at its best! Compared to competitors like ManHunt and Grindr, GuySpy has way more features to help you find guys YOUR way," declared Morris Chapdelaine, Executive Editor of GuySpy. With expanded photo albums, massive (200+) profile browsing, video messaging, multi-platform support for apps and the web, Chapdelaine asserts, "GuySpy is the best gay app to meet gay men, enjoy gay chat and meet guys you are really interested in - right now."
GuySpy debuted app for iPhone in October of 2010. Since then, GuySpy for Android, GuySpy for Mobile Web, and GuySpy for Web have been added to the product line. To date, over 135,000 guys have downloaded the app across 18 countries.
GuySpy uses location-based services, such as GPS, to connect gay, bi and curious users for free live gay chat. Users can find gay men by location, view profiles and photos, upload and listen to voice greetings, send and receive video and image files, and text chat. To make it even easier to chat with gay guys in their area, users have the option of viewing the entire community or using search filters to find only the guys that meet their criteria.
About Stark Mobile Media
Stark Mobile Media develops and distributes web, mobile web, and mobile applications to North American markets. Its flagship product, GuySpy, is a location-based mobile dating product that combines the intimacy of voice and photos with the immediacy of location. GuySpy is available for iPhone/iPad/iPod, Android, web, and mobile web.
###