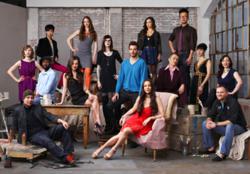 We are very pleased that the emerging artists we feel passionately about are getting the notice that we always knew they deserved.
New York, NY (PRWEB) September 27, 2011
The past June, COMPANY announced its inaugural publication of 30 UNDER 40 EMERGING ART STARS The feature included profiles of talented artists, curators, writers, art advisors and collectors who were significantly impacting the future direction of the art world. Since that article debuted, several of their picks have proven prescient gaining widespread recognition and with it, large increases in their sales.
One of their picks - Chicago-based artist Theaster Gates- has just been chosen for his first West Coast solo museum exhibition. This presentation of mixed-media sculptures and installation works uses a Black non-aesthetic to explore urban blight and the potency of the Southern Christian Leadership Conference's campaign in Birmingham, Alabama, in May 1963, when hundreds of demonstrators were violently hazed by the county's police and fire departments. The prices of his works have risen dramatically since COMPANY tapped him for stardom.
Another of COMPANY 's selections - Federico Solmi - was chosen for the renowned Venice Biennale Art Festival as well as soloshows in Washington DC as a result of his appearance in the 30 UNDER 40 EMERGING ART STARS . He is another example of COMPANY's eye for future talent.
Lastly, Jazz-minh Moore who COMPANY listed at number 13 on its 30 UNDER 40 EMERGING ART STARS has now been selected to appear on Bravo TV's Work of Art: The Next Great Artist. It is a creative competition series that seeks to discover new talent and shed light on the artistic process. Assembled in New York City under the watchful eye of art world elites, 14 up-and-coming artists are ready to make their mark on the industry and battle it out for a solo show at the Brooklyn Museum and a cash prize of $100,000
Co-founder Renee Ryan said " We are very pleased that the artists we feel passionately about are getting the notice that we always knew they deserved. The credit goes to the outstanding curatorial staff I am fortunate to work with at COMPANY and offer to our membership."
COMPANY will be debuting its own documentary cable show in November on NYCMedia.
About COMPANY
COMPANY (http://www.welcometocompany.com ) is an online and offline social network connecting collectors of contemporary art while providing compelling content, an on-line art exchange and original art works from emerging artists for sale commissioned by COMPANY. With the debut of its off-line networking salon – The Collector Series - and its cable TV show - Art/Trek NYC - COMPANY offers advertisers a multi-platform opportunity to speak to a highly sought-after demographic. Welcome to COMPANY!
# # #